Joseph Ossai Fought Back Tears in Postgame Interview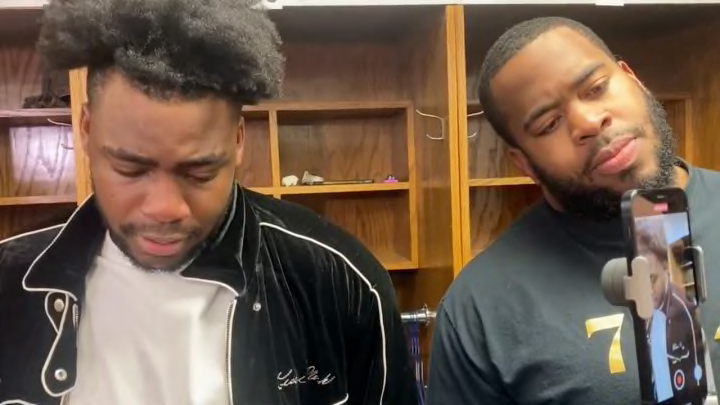 Joseph Ossai made a crucial mistake shoving Patrick Mahomes on the sideline late in the Cincinnati Bengals- Kansas City Chiefs AFC Championship Game. Ossai was penalized for unnecessary roughness and the 15-yard penalty set up Harrison Butker's game-winning 45-yard field goal with three seconds remaining. After the game Ossai was devastated, but his teammates stood by him. Especially BJ Hill, who literally stood next to him while he answered questions from the media while fighting back tears.
Ossai, who turns 23 in a couple months, stood there and addressed the media like he's supposed to. Probably for the first time in his young NFL career. Not the circumstances he probably envisioned, but Ossai was there - in the media scrum and on the field for one of the biggest plays - because he played well.
Ossai finished with five tackles (a career-high), a pass defensed (he had one all season) and two quarterback hits (his team had five total). Ossai also played 49 percent of the defensive snaps in the game, a mark he only reached five times in 16 regular-season games.
He made a mistake because he was in a position to make a play. it's really unfortunate that this is how his game will be remembered. Especially since there were 59-plus minutes of football that put him in that position. Joe Burrow threw two interceptions at Burrowhead. Joe Mixon and Samaje Perine combined to rush for 41 yards on 13 carries. The Bengals were called for another eight penalties before Ossai got involved. There's plenty of blame to go around, but Ossai stood up and took the lion's share.
Sports often give people a chance at redemption. Hopefully, Ossai gets a chance at that in Cincinnati.