Stupid Joseph Ossai Penalty Hands AFC Title to the Chiefs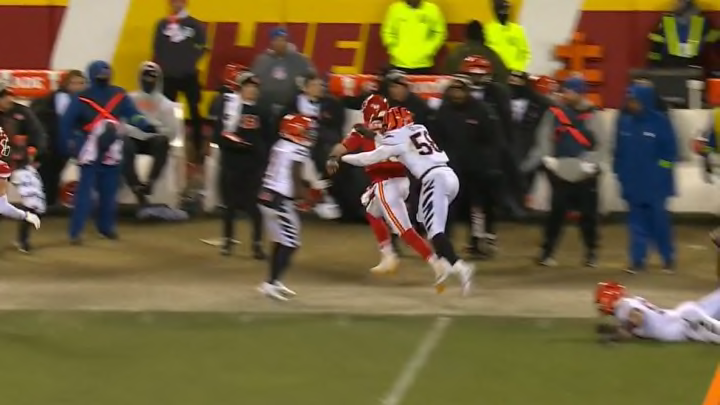 The Kansas City Chiefs are headed back to the Super Bowl after defeating the Cincinnati Bengals 23-20 on Sunday. The Chiefs won the game thanks to a late field goal from Harrison Butker from 45 yards out. That kick came about after a horrible penalty by Bengals defensive lineman Joseph Ossai.
The Chiefs faced a third and 4 from Cincinnati's 47-yard line, when Patrick Mahomes scrambled towards the sideline for five yards. As he approached the boundary, Ossai closed in, and after Mahomes was out of bounds he shoved the NFL All-Pro quarterback. He was immediately flagged for unnecessary roughness.
Instead of first and 10 at the Bengals' 42-yard line with eight seconds left, it was first and 10 at Cincy's 27. It completely changed the game.
Check out the play below:
Mahomes was clearly out of bounds. Just a moronic penalty from Ossai. That made Butker's kick considerably easier, taking it from a 60-yarder to a 45-yarder.
Ossai will have to think about that decision all offseason.