Jordan Poole Now Throwing Alley-Oops Off the Backboard While Down By 20 Points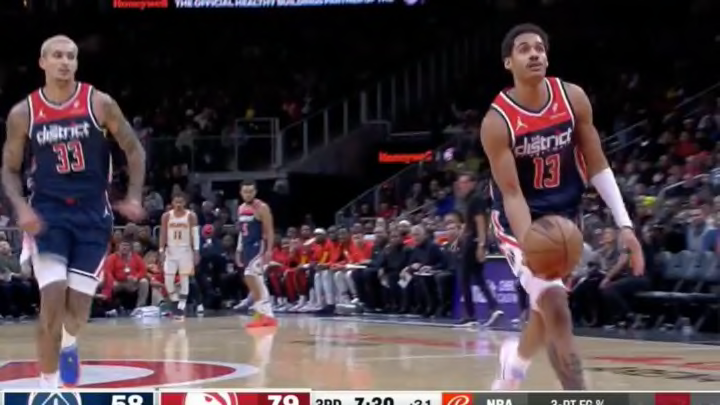 Jordan Poole /
It appears that we here at The Big Lead will be closely documenting Jordan Poole's season with the Washington Wizards because, like a car crash, it's impossible to look away. The first few games of this year suggest Poole has transformed into an absurdist art piece disguised as a basketball player now that he has secured the bag and is no longer burdened by the championship expectations of the Golden State Warriors. And his finest work yet came last night.
The Wizards were in Atlanta playing the Hawks and kept things relatively close until the third quarter, when the home side pulled away by 21 points. Poole found himself in the open floor with Kyle Kuzma behind him and decided that being down by more than 20 points with seven minutes left in the third quarter was the best time to throw an off-the-backboard alley-oop.
It's just so funny. This Wizards season will show us what would happen if we made an entire team out of early-career JaVale McGee. A bunch of guys just out there doing stuff with absolutely no regard for team basketball or situational awareness. It is going to be awesome.
Perhaps the most remarkable part of it all is that Poole isn't really playing all that much! So far this year he's played 26 or fewer minutes in three of the team's four games. For those who love analytics, that means his antics to minutes played ratio is off the charts so far. And it'll only get better as the Wizards take up residence in the basement of the Eastern Conference and Wes Unseld gives up on coaching him.
It's going to be a fun season for everybody who isn't a Wizards fan. Every time your favorite team suits up against Washington you get to see Poole do something insane along with enjoying an easy win. Tremendous.