Jordan Addison Did the Lambeau Leap Into the Arms of Vikings Fans in Green Bay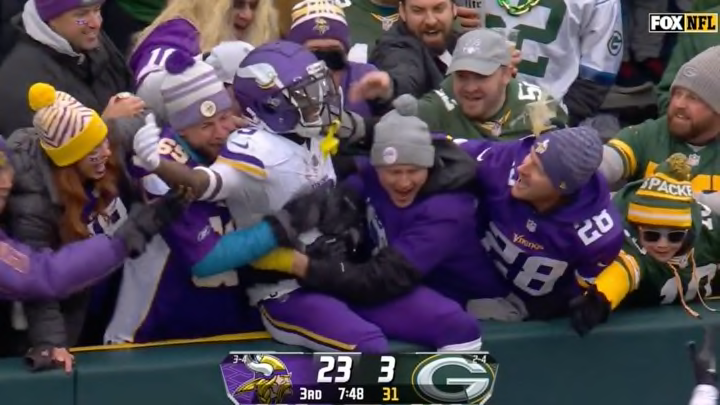 The Minnesota Vikings were beating the Green Bay Packers handily in Week 8 at Lambeau Field. And if you needed a reminder of just how jarring the shift in power of the NFC North is this season, you need only look to this Lambeau Leap by Jordan Addison of the Vikings into the arms of visiting fans.
Addison, who the Vikings took with the 23rd pick in the 2023 NFL Draft, scored his seventh touchdown of the season during the third quarter against the Packers. The touchdown came on a 20-yard pass from Kirk Cousins and put the Vikings up 23-3 midway through the third quarter. Addison celebrated by jumping into the arms of Vikings fans, a sight that was unfathomable back when the Packers were good.
After decades of Brett Favre and Aaron Rodgers, the Jordan Love era has failed to get off the ground and fans of other teams are taking advantage. Going back to 2011, the Packers had gone 9-3-1 at home against the Vikings. The number of Minnesota players who got to celebrate like this has to be a very short list.