Jonathan Gannon Compared to Michael Scott, Peewee Herman, Kendall Roy After Awkward Intros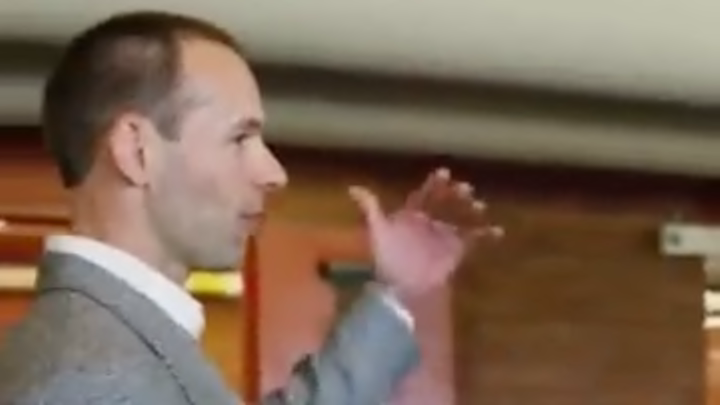 Jonathan Gannon spent two seasons as defensive coordinator for the Philadelphia Eagles before getting worked by Eric Bieniemy and Patrick Mahomes in the second half of Super Bowl XVII helped him a head coaching gig with the Arizona Cardinals. This week he got to meet some of the players on his new team. The video the Cardinals posted of this was full of bro hugs and the comments are littered with comparisons to Peewee Herman and Kendall Roy, but one interaction has people getting Michael Scott vibes.
Did he say "Pew pew pew pew. Shots?"
If you watch this and think he seems like an awkward guy, know that the Eagles tried to pay him more than the Cardinals to keep him as defensive coordinator. Via FMIA:
I loved Philly. I love Mr. Lurie [owner Jeffrey Lurie]. I love Howie Roseman. I love Nick Sirianni. They came back and they were like, here's a new offer. It's gonna pay you more than being a head coach. That's cool and I loved it there but I wanted to be a head coach and I was excited about this because of Mr. Bidwell—Michael, as he would say—[GM] Monti Ossenfort, and Kyler."
Philly fans have to love this. They made the Super Bowl. They had a chance to win it. They were willing to spend whatever it took to bring everyone back. And they still get a new defensive coordinator. Will the new guy promise to "f--king gut" opponents? Only time will tell.
One of Gannon's final acts as defensive coordinator of the Eagles was to call the defense that gave up two wide-open touchdown passes, expertly broken down by Robert Smith.
Here's Gannon's explanation for the defensive call on the second play.
"On the second one, I thought [Mahomes] was gonna play that as a drop back and that [coverage] was a zero [blitz]. Jesus Christ wouldn't have covered that in a zero."
I honestly can't tell if Jesus is deserving of a head coaching position after reading that quote. Is he saying Jesus would have called the right defense? Is that somehow supposed to make him look better?
Meanwhile, the most important lesson Gannon took from his time under Nick Sirianni appears to be to have as awkward an introduction to his new team as humanly possible. This could actually be the turning point for the Cardinals franchise.