Joe Burrow Sucking on His Bloody Finger During 'Sunday Night Football' Should Help Ratings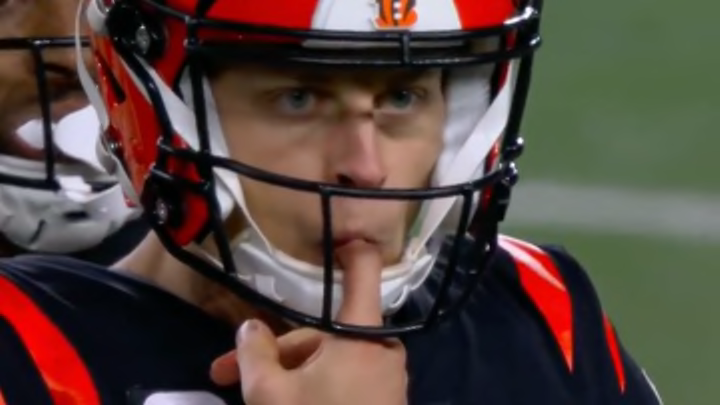 Joe Burrow had to resort to sucking on his bloody index finger during a Cincinnati Bengals drive against the Buffalo Bills on Sunday Night Football. Burrow split his finger open at some point in the first half and opened up a nasty cut. To manage the bleeding he wiped the finger on a towel and in the spirit of the most recent holiday, put the bloody finger in his mouth.
The bad news for the Bills' defense is that Burrow had already played a pretty good half and the Bengals had a 14-7 lead, but now he may have a taste for flesh. Who knows how this will end. It's sad the things that the NFL will do to boost ratings, isn't it?
Burrow had the finger attended to by the Bengals' trainers in between drives. They also worked on one of his calf muscles as he continues to play at a high level while fairly banged up. So far he's still slinging the ball around with decent success. In fact, he threw another touchdown a few minutes later.