Latest NBA Leads
Inside the NBA Crew Roasts Timberwolves For Celebrating Play-In Tournament Victory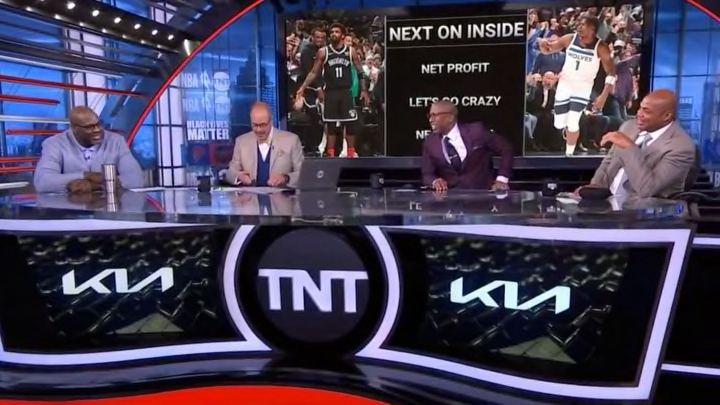 The Minnesota Timberwolves beat the Los Angeles Clippers in the NBA's Play-In Tournament on Tuesday. With the victory the Timberwolves clinched their second trip to the playoffs since Kevin Garnett was still in Minnesota back in 2004. It had been a long time since the Wolves won a game that mattered in Minnesota and both the players (especially Patrick Beverley) and fans acted like it. When TNT went back to the studio after the game the entire Inside the NBA crew was there laughing at the Timberwolves.
Shaquille O'Neal, Kenny Smith, Charles Barkley and even Ernie Johnson cracked jokes about the T'Wolves celebration like it was a bad thing.
You would think that the NBA and TNT would be happy to see the Timberwolves react like this because it makes the Play-In Tournament look like it matters. Look how excited they were! Look how happy the fans were!
Was that wrong? The Wolves really only clinched the 7th playoff seed. As we were reminded multiple times during both games last night, those were not playoff games. They exist in a gray area where they determine who makes the playoffs and make the league and teams money but the stats don't really count for anything.
So are we supposed to care about these games or not? And if we're not supposed to care about them why the hell should we watch them? What's the point of watching the next two joyless months if both players and fans can't get excited about the little moments in between the regular season and one city's championship parade?
The TNT guys had a good laugh at the Timberwolves acting like the won the title, but weren't they really just acting like they won a thrilling game? It's not like they were the first team to celebrate a victory that didn't clinch a championship.
Maybe the most famous celebration of Michael Jordan's career was after he hit the game-winner over Craig Ehlo against Cleveland. It was in the first round and the Bulls did not win a title. LeBron James jumped on the scorers table after hitting a buzzer-beater in the second round against the Toronto Raptors in 2018. The Cavs would go on to lose in the Finals. Dwyane Wade jumped on the scorer's table after beating the Warriors at the buzzer in February 2019. The win pulled the Heat to six games under .500. They would not make the playoffs.
Were those all acceptable celebrations? Are basketball players really only allowed to let emotion run over and outwardly celebrate a buzzer-beater? If that's the standard, then it doesn't seem very fun.