Please Pay Attention to Jimmy Butler Or He'll Be Forced to Do Something Even More Outrageous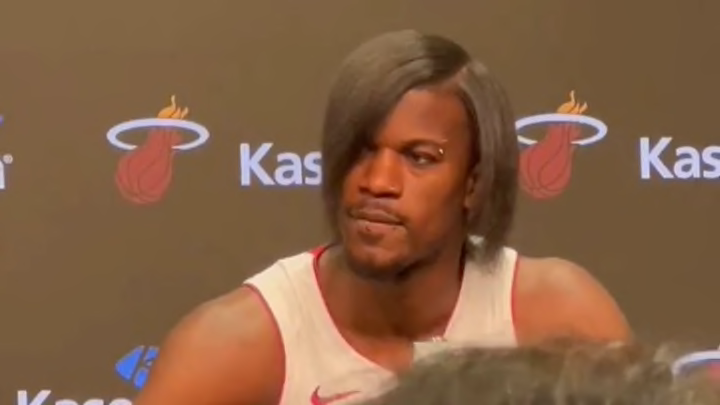 Jimmy Butler attended Miami Heat media day in costume for the second consecutive year. After sporting long dreads in 2022, Butler opened the 2023-24 season with a new haircut and new attitude.
Meet Emo Jimmy Butler. And then look at him for a while because otherwise he'll be forced to do something even more outrageous for attention.
It turns out that Butler was sending signals when he posted a video with My Chemical Romance in the background last week. Butler left his guitar at home, but wore an early-2000's emo bangs haircut and had a few new facial piercings to address the media and have his pictures taken for official league use this season.
There's really not much difference between Butler's media day looks and Burt Reynolds wearing the oversized hat on Celebrity Jeopardy!. Except Norm Macdonald's Reynolds admits it's funny. Butler makes you ask him questions like he's not doing this for attention. So good for whichever media member played along.
"This is my emotional state. I'm one with my emotions so this is what you get."
My only question would be... is this because of the Heat's failure to get Damian Lillard? Does it make the entire Heat franchise emotional knowing that two of their main rivals in the Eastern Conference, the Milwaukee Bucks and Boston Celtics, the two teams that bounced them from the 2022 and 2021 NBA postseasons, both got some major upgrades thanks to a trade that Pat Riley and the Heat were unable to make after months of insistence that it was the only viable option for the Trail Blazers?
How does Tyler Herro feel today knowing he was nearly Cute Without the 'E' (Cut From the Team)? Is it hard to come back to the team after they said Thnks Fr Th Mmrs? Surely no one is really mad when something goes this wrong with the Story of the Year. Call it Understanding in a Car Crash if you want, but the way this offseason went there's little chance of a Black Parade at the end of the season.