Don't Be Shocked When the Green Bay Packers Go 16-0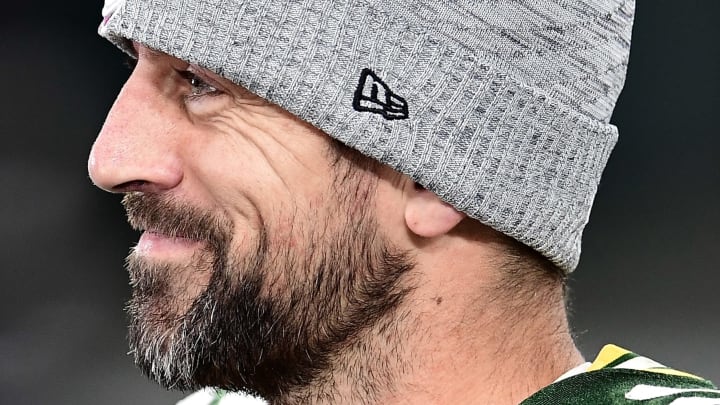 Stacy Revere/Getty Images
The first quarter of an NFL season doesn't tell us everything, but it tells us some things. For instance, Aaron Rodgers is good as hell and the Green Bay Packers appear to be on a collision course with another division crown and deep playoff run if things stay on this path. None of this should surprise anyone since Rodgers is in the conversation for most skilled quarterback of all time and the Cheeseheads made it to the NFC Championship Game last season.
What's a bit more eyebrow-raising is how proficient and efficient the Packers offense has been. Some stat-age for my statheads:
If Rodgers posts the highest single-season QBR and the Packers put up 36 points per contest while never turning the ball over, they will win all their games. Consider that my INSERT SPONSOR HERE LEAD PIPE LOCK of the year. But even if production falls off a bit, to mere mortal levels, Green Bay has an excellent chance to secure home field throughout the playoffs, if not chase a more lofty and rare goal of a perfect season.
Consider the cakewalk that lies ahead.
A bye before Tampa Bay. Then four straight against the reeling-in-some-sense Texans, Vikings, 49ers, and Jaguars. Then a Colts-Bears-Eagles-Lions stretch. I have not named a game this team should lose, meaning 14-0 going into the final hurdles of Tennessee and Carolina.
Predicting 12 consecutive wins is a losing proposition in even the sanest of years. Attempting to divine what will happen in this topsy-turvy Inception-ass season is a waste of time. The whole house of cards could topple over at any minute.
And yet, if it doesn't, the Packers have a realistic chance to do what only the 1972 Dolphins and 2008 Patriots have done. It's time to seriously entertain the possibility, which remain in play as long as Rodgers remains godlike and their opponents needs to be poked with a hot stick to show any signs of life and/or fight.