Grayson Allen Ejected for Dangerous, Dirty Foul on Alex Caruso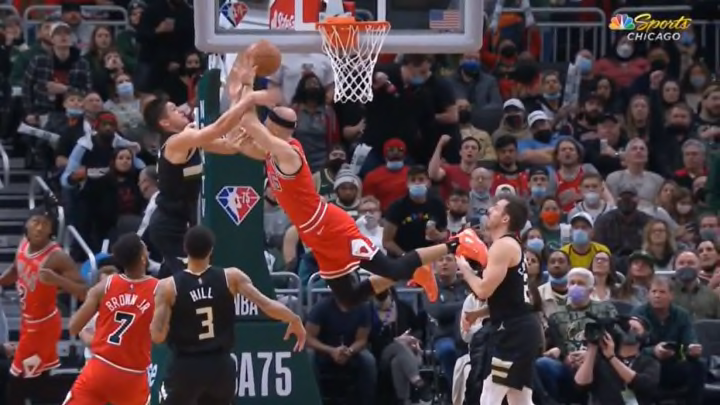 Grayson Allen commits a dirty foul on Alex Caruso /
Grayson Allen is at it again.
On Friday night, the Milwaukee Bucks guard was ejected for committing an incredibly dirty, hard foul on Chicago Bulls guard Alex Caruso. After a review, he was assessed a Flagrant 2 and thrown from the game. He was smiling about it the entire time like he hadn't just put Caruso's health in jeopardy.
Here's video of the play in question:
And another look:
Seeing Caruso's head bouncing off the court was super scary.
The initial contact by Allen's left hand, could be considered "a basketball play." He was going up to block Caruso's shot. Then he unnecessarily followed through with his right arm, hit Caruso to the head and threw him to the ground. The worst park is he seemed to show absolutely no remorse or even care to check if Caruso was OK.
It was a flat-out dirty play, but that's what we expect from Allen these days. He's committed flagrant fouls since joining the NBA, after making a career out of doing so at Duke. He's proven exactly why he'll never get the benefit of the doubt ever again.