Gisele is Not the Tom Brady of Supermodels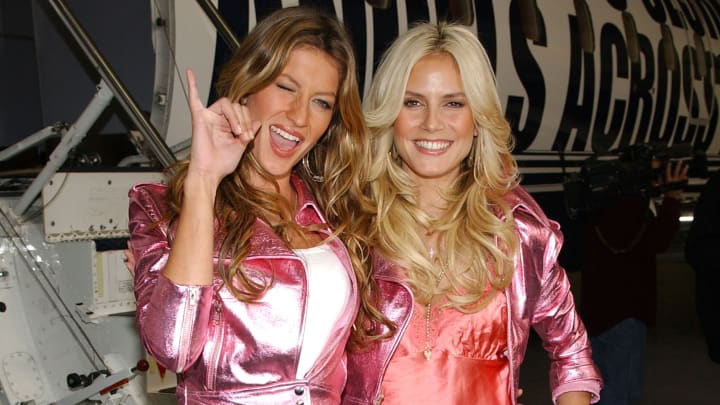 Victoria's Secret Supermodels Kick Off Cross-Country "Angels Across America" Tour / J. Countess/GettyImages
As Tom Brady's career winds down in unspectacular fashion, and his marriage to supermodel Gisele reportedly unravels simultaneously, the natural question to ask one's self is who is the Tom Brady of supermodels?
That's what the people want nowadays, isn't it? A debate about the G.O.A.T.? So I decided to jump on board and have a little fun with it.
Spoiler alert, Gisele is not the Tom Brady of supermodels.
To truly answer the question of who is the Tom Brady of supermodels, one must start with the question of who is Tom Brady? A complicated queery to be sure, but let's stick with the basics. Tom Brady is:
NFL GOAT
Married to another celebrity
Has multiple kids with multiple people
Refuses to retire
Successful in ventures outside his primary one
Good looking
Polarizing
Getting into media after retirement
Rich
Health nut
That covers the criteria I considered when naming the Tom Brady of supermodels and it actually limits the field down right away. Here's who I considered based on that list.
Gisele
Tyra Banks
Cindy Crawford
Naomi Campbell
Heidi Klum
Caludia Schiffer
Kate Moss
Ele Macpherson
Iman
Now I'm no modeling expert, but I'd say that's pretty much the GOAT list of female models. Could be wrong, but whatever. This is my opinion.
Of that list of GOATs, our first criteria, we can immediately eliminate Tyra Banks, Naomi Campbell, Caludia Schiffer, Kate Moss and Ele Macpherson from the list based on criteria two. Banks and Campbell have never been married and the other three have never been married to someone famous enough to warrant consideration. That leaves, Gisele, Crawford, Klum and Iman in the running.
We know Giselle has kids, but they come from Brady alone so she's out and so is Crawford for the same reason. That leaves on Klum and Iman in the running.
Going down the list, it isn't until we get to criteria 8 where we find the differentiator. While Iman has had a successful career after retiring from modeling, she never got into media. Klum, meanwhile, has been the face of multiple hit shows, most notably "Project Runway." While that isn't exactly the same type of media Brady is expected to do, it's as similar as we're going to get.
So there you have it. Heidi Klum is the Tom Brady of supermodels. She's in the convo for GOAT model, she was married to Seal at the height of his career, she has children with two former partners, she's still modeling at 49, she's been wildly successful in her post-modeling career, is obviously good looking, has a polarizing personality, is in media, is rich and is health conscious. I can't think of a more Brady model than her.