Justin Pugh Crushed His Sunday Night Football Intro: 'Straight Off the Couch'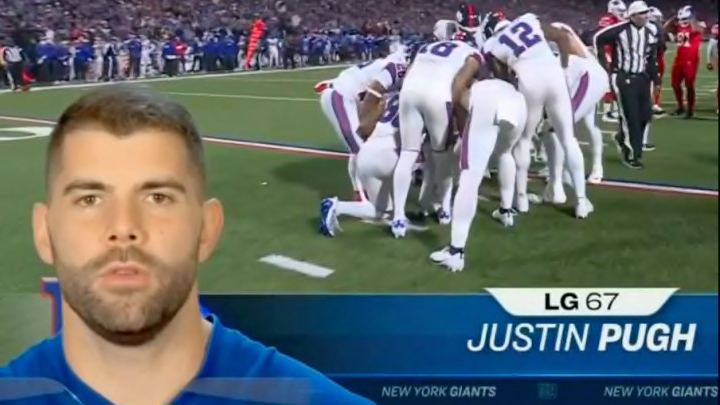 Playing on Sunday Night Football is a great opportunity to show America what you can do as they cling desperately to the final embers of a long pigskin Sunday. It's also the best opportunity to showcase your personality as they've had the starters do their own introductions for a long time. The boring way to do it is to say their name and what college they attended but in recent years we've heard players give their high schools or elementary schools a cool shoutout. And we've also see the more creative players explore the artistic space.
The most recent — before last night — was then-Lion Jamaal Willams do whatever the hell this was on last year's season finale.
But there's a new funnyman in town and he operates on the New York Giants offensive line. Justin Pugh, who joined the G-Men's practice squad earlier this month, got a spot start due to a bevy of injuries last night against the Buffalo Bills. His self-written intro?
"Justin Pugh, straight off the couch."
Pugh, of course, was selling himself a bit short as he actually had a pretty robust calendar before being tasked with stopping pash-rushing defenders.
A real estate/podcasting hybrid into pro football? That's what they call the reverse Scottsdale.
The bad news for Pugh is that he and the Tyrod Taylor-led offense couldn't figure out the goal-line and fell just short of pulling a huge upset last night. The good news is that Brian Daboll didn't publicly torch him on the sidelines like a client irate about having to consider a seller's concession.