Brian Daboll Absolutely Furious With Tyrod Taylor After Blown Goal Line Opportunity to End First Half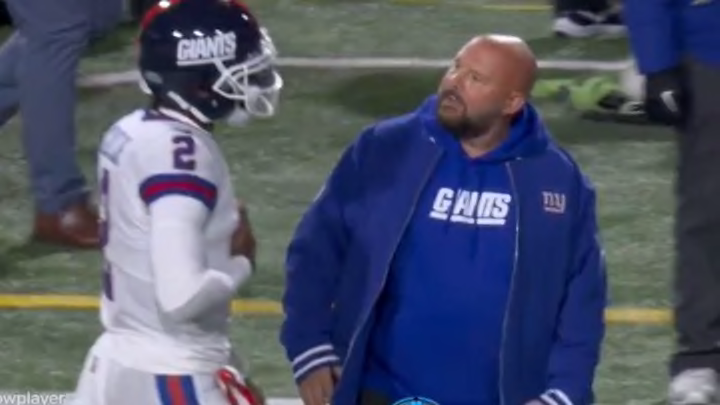 The New York Giants took a 6-0 lead into halftime against the Buffalo Bills on Sunday Night Football in Week 6. It should have been more except the Giants completely bungled their final play of the first half. And coach Brian Daboll was absolutely furious with Tyrod Taylor as the Giants ran into the locker room after the Giants came away with zero points despite having 1st and goal at the 1 with 14 seconds left in the quarter.
The Giants had 1st and goal thanks to a Buffalo penalty. Tyrod Taylor, starting at quarterback because Daniel Jones is injured, appeared to audible to a run play. He handed the ball to Saquon Barkley, who got stuffed and the Giants didn't get off another play before time expired. Brian Daboll was beside himself.
It's like Daniel Jones was back.
Even if the Bills had let Barkley up, they only would have been able to get off one more play. They should have had multiple attempts to throw it into the end zone and score their first first half touchdown of the entire season. Instead, they failed to even kick a chip shot field goal that would have given them a possession lead. This is the kind of thing that just makes the Giants looked cursed.