'Get Up' Did a Good Job Covering Jeff Saturday's Shocking Hire By the Indianapolis Colts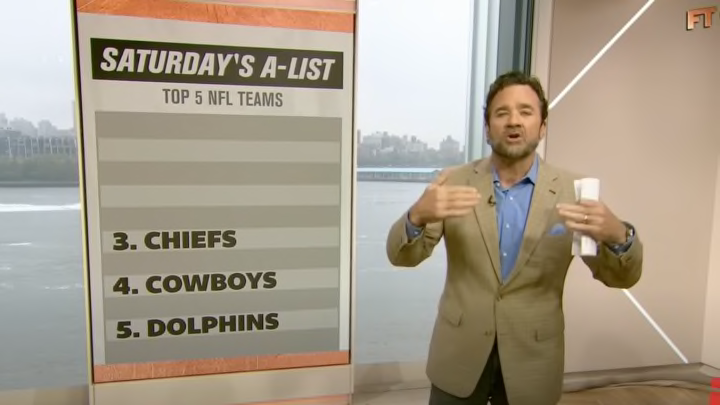 Jeff Saturday is the interim coach of the Indianapolis Colts. Last week he was on First Take jumping around the studio ranking the best teams in the NFL. Now he's preparing to face the Raiders, which meant missing his usual Tuesday appearance on Get Up. In his place was a plate of pancakes. Mike Greenberg kicked off the show saying the breakfast was there for Saturday "should he ever need them again, but we hope that won't be for ten more years and ten Super Bowls along the way."
After that, you have to wonder how a show like Get Up, which Saturday regularly appeared on, could honestly cover the Colts' situation. But they did. And they totally pulled it off.
Marcus Spears did an incredible job of walking the line, being honest about his bias and happiness for Saturday and then admonishing the Colts for making a bad decision and pointing out it is a bad look for the NFL. As Spears pointed out, there are many around the league who should be upset by this hire, white and black. Players on the Colts should wonder why Saturday was being brought in rather than giving the opportunity to one of the position coaches who had been with the team since mini-camp.
Dominique Foxworth followed that by saying he'd known Saturday for more than a decade and worked with him all the way back when they were players negotiating the CBA.
"He's someone who I sincerely love and he has the most integrity of anyone I've ever met and I know that he will be a great leader and I do think that he will succeed there, but to Marcus' point, we would not be meeting our responsibility if we let our biases creep in and pretend like this is something that's normal and something that should not be called into question."
Mike Tannenbaum compared it to the Warriors bringing in Steve Kerr and said that Saturday's head will be spinning in a week. Dan Graziano called Saturday a lifelong friend then compared it to the Yankees bringing in Aaron Boone.
The Get Up consensus? Basically, we love Jeff Saturday and the Colts should not have done this.
It was fascinating to watch. And it will probably lead to similar conversations after the Colts' upcoming games. ESPN will actually broadcast two of them on Monday Night Football in Week 12 and Week 16. The most important thing is that the rest of the ESPN family should now feel comfortable criticizing the Colts for hiring Saturday - and then Saturday if the Colts don't turn things around.
You could sense the shock and confusion on the midday SportsCenter from Hannah Storm and Jay Harris. Louis Riddick, who has been a candidate for some NFL general manager jobs, then came on and just laughed when asked for his thoughts.
The next two months will be amazing to watch as ESPN personalities will continue to preface comments on the Colts by saying how much they love their interim coach. And if the Colts somehow make a run at the playoffs under Saturday? A lot more unbelievable laughter is probably in store. Whatever happens, I bet most people at ESPN expect to have Saturday back on set this offseason.