France Getting a Remake of American Sports Reporter Brian Windhorst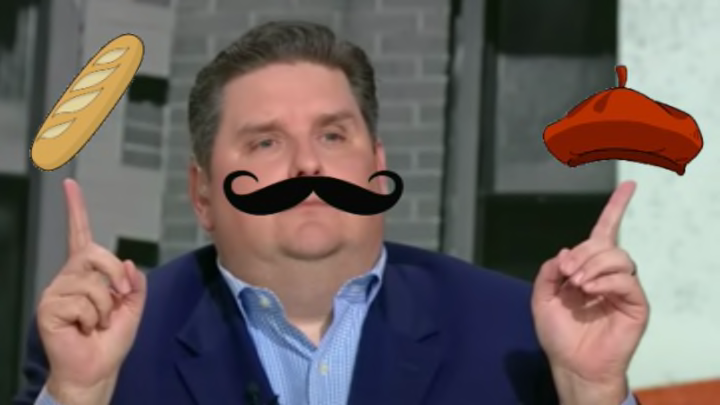 The 2023 NBA Draft Lottery took place on Tuesday night. The San Antonio Spurs won the lottery and the right to select Victor Wembanyama with the first pick in the draft this summer. Wembanyama, a 19-year old from France, hosted a gathering in Paris to watch the lottery at 2:30am local time. Brian Windhorst was there to get the initial reaction from Wembanyama in an exclusive one-on-one interview that aired live on ESPN. The interview lasted a little over a minute and, well, that was it.
Obviously, in the current economic climate, you don't simply send a reporter across the Atlantic for something that could easily have been done remotely. Windhorst spent the day with Wembanayama. And Windy is still in France today, as he appeared via satellite on Get Up this morning. Luckily, the time zone goes in the right direction so no one in the hotel was bothered by his participation.
The question is, when does he get to come home? Or is he moving to France? Is ESPN giving him a choice? How many croissants must he eat for the social media team?
In all likelihood, he'll be heading home soon to cover the Conference Finals, but what if ESPN has bigger ideas? It seems like a no-brainer that getting Windy to get in on the ground floor with Wemby would be good for business, but how far are they willing to go?
Windhorst's LeBron James connection has taken him pretty far, but James will only be playing for another 5-10 seasons. Perhaps ESPN wants to recreate the bond that Windhorst had with LeBron.
Is it possible WIndhorst will enroll at whatever French academy Wembanyama attended in a Never Been Kissed-esque scenario? What better way to foster a connection like the one he had with LeBron because they both went to St. Vincent-St. Mary's in Akron? What's the French equivalent of the Akron Beacon Journal and are they looking for any primarily English-speaking interns?
The trouble is, as soon as Windhorst begins to immerse himself in the French culture and study the Livret du Citoyen, Wembanyama is going to move to San Antonio. Will Windy, croissant in hand and beret on head, pick up his new French life and move to Texas. like so many of his new countrymen did before him? You want to talk about culture shock? How will people react when Windhorst reports from Spurs training camp sporting a thin mustache and the slightest hint of a French accent?
Is this the second act of a career that Windhorst probably envisioned for himself? No.
Is it important for ESPN that he commit to the bit? Oui.