FOX News Befuddled By Jim Jordan's Early Friday Morning Press Conference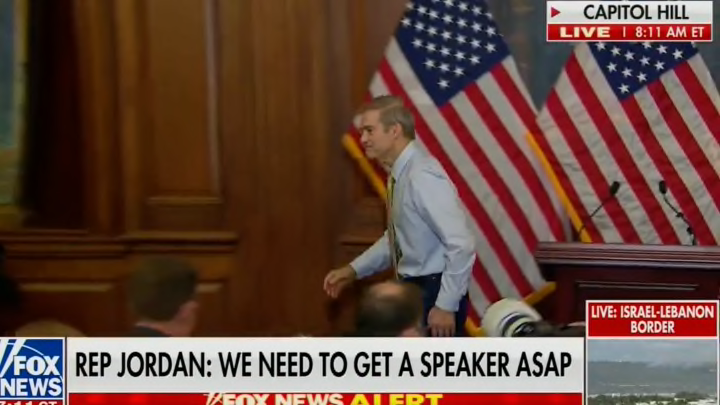 Jim Jordan continued his quest to find enough votes to become Speaker of the House on Friday by holding an 8 a.m. press conference. The timing and content of the press conference left people with more questions than answers. FOX News carried the brief event live, but even they seemed confused by Jordan when it was all done.
Lawrence Jones was there waiting when Jordan ended the press conference after about 10 minutes and had this to say: The Speaker designate giving a press conference about the status of the Speaker's race. Doesn't look like he has support yet, Brian and Ainsley. I'm not sure what the purpose of the press conference was. He took questions from the folks, but it looks like he's still just trying to rally the troops."
Then it was Brian Kilmeade's turn. "Okay? I don't know what the point was," Kilmeade began as people on set could be heard laughing. "Everything that we just learned, we knew, except that Jim Jordan is not quitting. And there is no Steve Scalise sitting in the background. There's no Kevin McCarthy comeback about to happen. There's no Congressman [Kevin] Hern who says what about me? Put me in coach. So right now Jim Jordan says I'm going to use the Bible as inspiration to push myself over the finish line. The problem is what bible are the other twenty using because they believe that they're making their stand against Jim Jordan."
Kilmeade called one Congressman a "dumbass" for not voting for Jordan earlier this week and things don't appear to be getting any better. He may still think Jordan is the best or only choice, but he's clearly having trouble seeing how that might actually happen.