Brian Kilmeade Called Rep. Don Bacon a 'Dumbass' on a Hot Mic During Speaker Vote on FOX News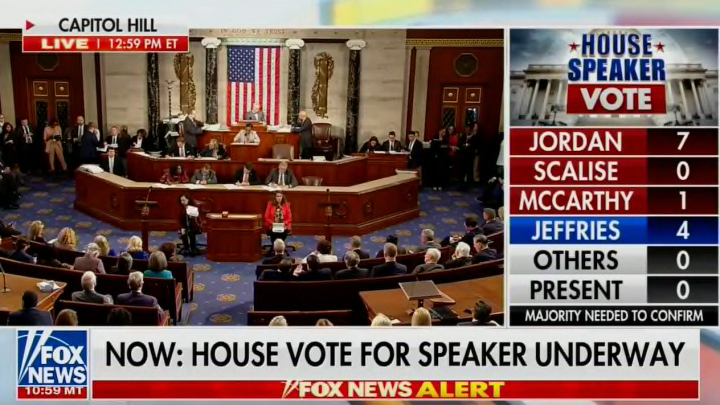 The US House of Representatives held another vote to determine the Speaker of the House on Tuesday. Ohio's Jim Jordan thought he might have the votes, but it turned out that he did not. Multiple Republicans voted for former Speaker Kevin McCarthy or a number of other randoms, while Democrats all voted for Hakeem Jeffries.
FOX News carried the vote live and left a mic on that sounds like it caught FOX & Friends anchor Brian Kilmeade calling Rep. Don Bacon a "dumbass" when he cast his vote for McCarthy. Bacon was the first Republican to vote for McCarthy.
FOX News has not seemed happy with the chaos surrounding the House Speaker lately. This morning on FOX & Friends, Kilmeade called Republicans trying to make deals a "carinval of idiots." (22:15-mark in the video below.)
And behind the scenes FOX News' Sean Hannity has reportedly been trying to rally support for Jordan. So while Kilmeade got caught voicing his displeasure during the vote count, he's probably not the only person at FOX who had the same thought.
Bacon, who represents Nebraska's 2nd Congressional district, has been in office since 2017. He previously served in the Air Force. He was one of the few Republicans who rejected attempts to overturn the 2020 Election.