Four Bus Drivers NBA Teams Should Keep Their Eye On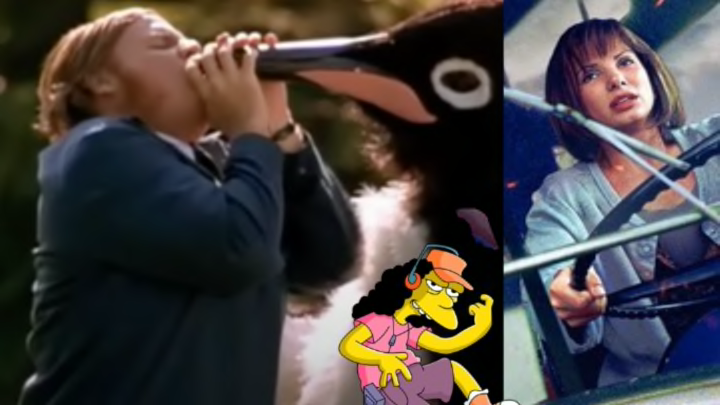 Bus driver is the metaphor that sports media will not let die. Started by Charles Barkley in what appeared to be a completely off-the-cuff manner during the Brooklyn Nets first round loss to the Boston Celtics in the 2022 NBA Playoffs, bus drivers have followed this league around ever since. First levied as a criticism of Kevin Durant, plenty of other players have had their driver / rider credentials debated on any number of sports talk programs over the last two months.
So who do you want driving that bus? If not Kevin Durant, then who? Maybe the key for franchises is to identify the characteristics held by some of the best bus drivers of all-time. Here are the top four and why you should expect a stop at the promised land if your team can get them in your garage.
Otto - The Simpsons
So you want some experience in your bus driver? Otto Mann has been driving a bus since season 1, episode 3 way back in 1990. And you'd prefer someone in their prime? He's been 29 for more than 30 years. Sounds perfect for a max contract.
Chris Farley in Billy Madison
This uncredited role packs about as much Chris Farley as you can into two minutes. The look on Sandler's face as he talks about Veronica Vaughn tells you all you need about what kind of locker room guy this unnamed bus driver is. His ability to stay focused and shake off distractions like a sandwich being thrown at him while he's driving proves he's cool under pressure. And you know that term "he took his lunch." Well, this guy took 30 of them. He's no sasquatch, but he's a hell of a bus driver.
Cosmo Kramer - Seinfeld
In 1994 a comedian did the unthinkable and heckled a heckler at her place of work. Upset, she ran out the door and the even more unthinkable occurred: her foot was run over by a streetsweeper, severing her pinky toe. A man found a pinky toe on the street. Realizing what an important appendage it was, he put it in a Cracker Jack box full of ice. What happened next you'll just have to hear to believe.
Tell me that doesn't sound like a legendary bus driver? I mean, he kept making the stops for crying out loud. And Kramer's bus driving didn't end there. Just two years later he was back behind the wheel driving the Peterman Reality Bus Tour.
The most important thing here is that it only cost $37.50 and you get a pizza bagel and dessert. So not only is he a bus driver, he's cap-friendly.
Annie Porter - Speed
The no-brainer number one is Annie from Speed. Her next-person-up attitude saved a literal busload of people. An Arizona Wildcat, Porter has incredible pedigree because she learned under Lute Olsen. Speed came out in 1994 which was right around the Damon Stoudemire era. Sandra Bullock was 30 when the movie came out and was born in 1964, a year before Steve Kerr which means they likely went to school together. Who better to spot a bus driver?
Sadly, Annie's ascent to the top of the bus driver rankings means that Sam, who originally drove the route, but got shot and was allowed to get off the bus, should not only be remembered as an injury-prone bus-rider, but a prime Ewing Theory candidate.
Honorable Mention: Lorenzo, A Bronx Tale; Rick, Bachelor Party; Forest Gump's school bus driver; Ms. Crabtree, South Park; Meat Loaf, Spice World, Tom Hanks, Various Roles.
UPDATE: If you'd like to hear Kyle Koster react to these rankings, check out the latest podcast below.