Charles Barkley Discounts Kevin Durant's Legacy By Calling Him a 'Bus Rider'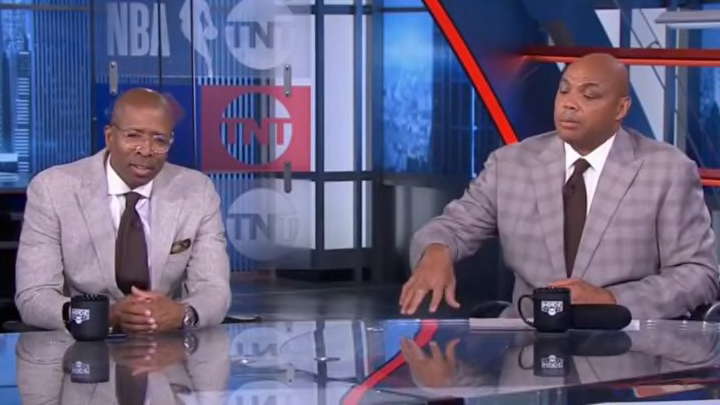 Kevin Durant and the Brooklyn Nets are on the verge of getting swept in the first round of the Eastern Conference playoffs by the Boston Celtics. However many games the Nets need to lose the series, it will go down as another wasted and disappointing season for Durant, who averaged 29.9 points, 7.4 rebounds and a career-high 6.4 assists this season. Coming off a particularly bad 16/8/8 in Game 3, Charles Barkley basically questioned Durant's entire legacy.
"All these bus riders, they don't mean nothing to me. If you ain't driving the bus, don't walk around talking about 'you a champion.' If you're riding the bus, I don't want to hear it. Come on Shaq, tell' em. All these guys walk around with these championship rings. Hey, ya'll bus riders. But let me tell you something. When you're the bus driver and you got all that pressure when you have to play well or you going to get the blame? That's a different animal."
Kenny Smith, who in this metaphor would definitely qualify as a bus rider, tried to stick up for the other passengers. Barkley then doubled down, saying those players were "just on the bus."
Keep in mind this is a discussion about two-time champion Kevin Durant who has at times throughout the last decade or so been considered the best basketball player alive. Because the Warriors won 73 games the season before Durant won his rings, and Stephen Curry, also widely considered one of the best basketball players alive over the last decade, was also on the team. Presumably driving the bus.
There's just so much wrong with this mentality. It absolutely has to be something Barkley was stumbling through on the fly because stopping to think about it for even a few minutes would make it incredibly dumb. Barkley is just becoming the thing he hates.
A Kevin Durant comparison is now an insult!!
In 2017, Kevin Durant scored 35 points per game in the Finals with terrific shooting percentages: 55/47/92. If he wasn't driving the bus it's because he was eviscerating the team that beat the Warriors in the Finals the previous year while LeBron James averaged a 33-points-per-game triple-double. Other bus riders in this scenario include Klay Thompson, Draymond Green and Andre Iguodala.
What Barkley is doing here is not only an insult to himself as someone who never won a ring, but it discounts almost every championship ring ever won. If Kevin Durant's rings don't count then Scottie Pippen's don't. If Pippen's don't then how many of Magic Johnson's do since he was playing with Kareem Abdul-Jabbar? Do Shaq's not count because of Kobe and Dwyane Wade or do Kobe and Dwyane Wade's not count because of Shaq? Do you hear how dumb this is?
Who is this argument for besides Shaq who almost certainly would have referred to himself as The Big Bus Driver if this conversation continued for another three minutes? Kenny Smith won two championship rings and they most definitely count. Smith started all 45 postseason games the Rockets played in 1994 and 1995. No, he wasn't Hakeem Olajuwon, but would he have won those rings if Kenny Smith wasn't there playing 30 minutes every single night? Olajuwon never won a single ring until Smith, Vernon Maxwell, Robert Horry and Sam Cassell got on the bus and he never won one after they got off at their stops either.
The ultimate goal in the NBA is to win a championship. Only one team gets to do that every year. One out of 30! Not everyone gets to be the star of the winning team. If winning without being the star doesn't matter, then why should anyone care enough to help the star win and why did Barkley join Olajuwon's Rockets if the ring wouldn't have counted anyway?
I guess my point is that we should stop tearing each other down to feel taller. Public transportation is a great thing and the bus driver should be thanked, but without the passengers he also wouldn't have a job.