Fernando Tatis Jr.'s Contract Was Still Worth it, Even With an Injury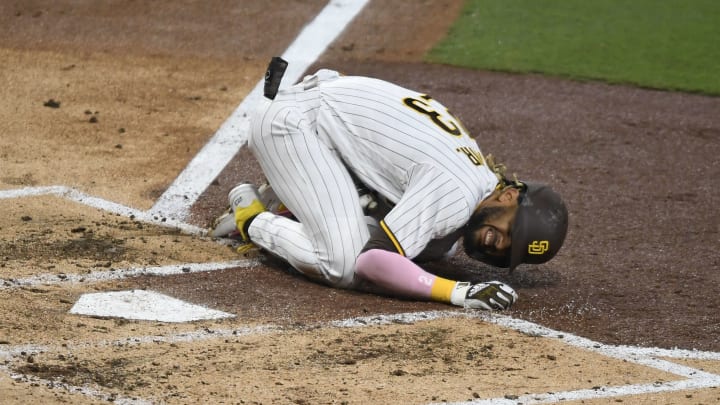 San Francisco Giants v San Diego Padres / Denis Poroy/Getty Images
As Fernando Tatis Jr. lay crumpled in a heap in front of home plate Monday night, everyone associated with the San Diego Padres held their breath. The franchise's future and its heart and soul had to be helped from the game. The $340 million man appeared to be seriously injured just five games into his new contract. Despite all those concerns, there is no chance anyone is regretting that deal. It was absolutely worth it, even with this latest injury.
While we'll likely get more details on the severity of Tatis' injury on Tuesday, the team has reported it is a left shoulder subluxation. The recovery time from that injury could be four-to-six weeks or, if it's more severe, four-to-six months. The latter result could put the 22-year-old out for the season.
That would be a terrible way to start out his new massive contract, but the Padres didn't give him that deal with eyes just on 2021. They gave it to him for the next 14 seasons. In fact, Tatis is only making $1 million in base pay this year, with $10 million attached due as a signing bonus. So, financially, this isn't a huge blow to the team's bottom line.
Sure, it would be a devastating result for the franchise if Tatis was done for the year, but mostly because San Diego was poised for a big playoff run this year. With an elite starting rotation and an excellent lineup that has only gotten deeper since a stellar 2020 season, the Padres had World Series dreams. Losing their most important player would be a huge blow.
Even with Tatis gone, San Diego still has a roster capable of reaching the postseason. Manny Machado, Eric Hosmer, Wil Myers, Jake Cronenworth and Trent Grisham (when he returns to the lineup) lead an offense that can do damage from top to bottom. Yu Darvish, Blake Snell and Joe Musgrove are an excellent top three for a pitching staff, and the bullpen is incredibly deep. This team can easily earn a Wild Card spot if it lives up to its potential.
Even in the worst-cast scenario, there's a chance Tatis could return to baseball in four months. That's roughly an August return, which would give the team a boost for a late-season run. No one should bank on that, but it's a possibility.
There was a lot of noise on Monday night that Tatis' injury is exactly why teams shouldn't invest so much into individual superstars. That's absolutely insane. Tatis is the new face of Major League Baseball and will be the face of the Padres for a long time to come. It's not like he was going to go his entire career without suffering an injury at some point.
The Padres handed out a ton of money to Tatis this offseason and I guarantee they don't regret a single penny of it today.