'Family Feud' Contestants Fail To Guess Activity That Brings Men Closer Together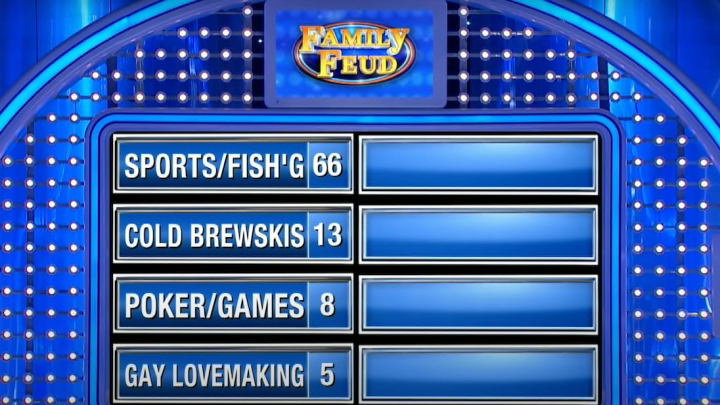 Family Feud has basically been on the air non-stop since 1976. In its current iteration with Steve Harvey hosting, the goal of every survey is to get a contestant to give an answer that allows the host to act like it's the most outrageous thing he's ever heard. It's a simply comedic formula and it's resulted in a number of viral clips over the last decade.
Earlier this week another video of that ilk was posted to YouTube with the title "Shunta's answer cracks up Steve Harvey." One hundred people were asked to name an activity that brings men closer together. Shunta's answer? Dominoes. Pretty tame stuff, but it absolutely *sent* Steve Harvey.
Of course, the real story is that this clip completely buried the lede. Neither team was able to figure out the fourth answer to go along with "SPORTS/FISH'G," "COLD BREWSKIS," and "POKER/GAMES" (which Shunta's dominoes answer unlocked).
After an unsucessful attempt by the opposing family to steal the round, Harvey asks for the final answer to be revealed and the clip ends with a very confused audience reading the words, "GAY LOVEMAKING." No Family Feud audience has ever read an answer with that same inflection.
Maybe the best part is how far the wrong guesses were from the actual answer. Shunta's family's final guesses were "strip club" and "talking about women." Welcome to 2022.