How Much Will the New ESPN+, Disney+ and Hulu Apps Cost?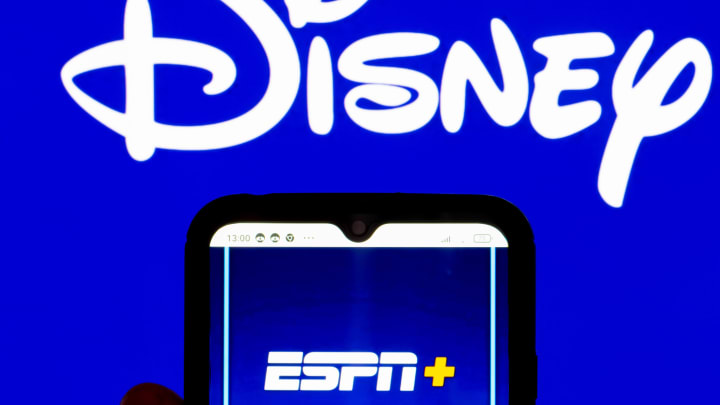 In this photo illustration, the ESPN+ logo is displayed on a... / SOPA Images/GettyImages
Disney is making some changes that may affect your streaming options. On Disney's earnings call last week, Bob Iger announced that Disney+ and Hulu would be merging into a single app. On top of that, the Wall Street Journal reported that ESPN is preparing to take their flagship shows direct-to-consumer by streaming their channels. So in the not so distant future you'll have a Disney+ / Hulu hybrid app and will be able to watch JJ Redick antagonize Mike "Mad Dog" Russo on ESPN+.
So what the hell is this going to cost me?
Right now you can buy a bundle that includes ad-supported versions of Disney+ and Hulu, as well as stream all ESPN's game broadcasts, for $12.99 a month. There's also an ad-free option for $19.99.
To paraphrase a television character that you won't be able to see on any of Disney's apps, "price of the bundle going up."
If you have cable you're paying about $10 a month for ESPN, ESPN 2, ESPNews, ESPNU and ESPN Deportes. ESPN+ is $9.99 a month or $99.99 annually. So how much more is ESPN going to charge a cord-cutter to watch Mike Greenberg and Stephen A. Smith all day? Back in 2021, when ESPN+ was just $6.99 a month, Andrew Marchand predicted the direct-to-consumer streaming version of ESPN would be $19.99. It's unlikely the number would go down from there. Considering MSG+ came out swinging with a $29.99 subscription price, it's hard to imagine ESPN would have to settle for less. Especially if this allows more people to cut the cord because they couldn't live without Around the Horn in their lives.
Of course, Disney might be happy to give you a better value if you were interested in a new bundle featuring their new Disney+Hulu app. It only makes sense that the Disney Channel and Disney Junior also start going direct-to-consumer which would make that app even more valuable to parents who long ago lost 24/7 access to the remote controls they pay for. What's that worth? $19.99 a month? $24.99 a month? More?
Individually, ad-free Hulu is $14.99, Disney+ is $10.99 and ESPN+ is $9.99. That's $35.97 and they're giving it to you for like 40% off.
So if you've got a $30 sub and a $25 sub, that's $55 and sixty percent of that is about $33... carry the one... make it look like an attractive number... how about $39.99 for ESPN, Disney and Hulu and each of them have new names? And you can add on Live TV at a more reasonable price because you're already getting the ESPN and Disney channels. The current ad-free bundle with Live TV is $82.99. So let's only increase that a bit and make it a steal at $99.99 a month. Yeah, you're basically paying for cable again and you haven't budgeted for anything like Netflix, HBO, Peacock, Paramount, Apple, etc.
Of course, these are all guesses. Mostly uneducated. I'm just a guy managing 50 subscriptions so I can complain about the things I watch on Twitter. Do I miss the days when I had a channel up and channel down button to press as I clicked through dozens, if not hundreds of things I had no interest in watching? Sometimes, but those days are gone for many people and ESPN obviously agrees if they're going to make the move to streaming.
Even if the Worldwide Leader is keeping one foot in the old world by still offering their fare to people who can't, won't, or don't know how to cut the cord. The future is here. Just save my new passwords.