Emmanuel Acho Calls Justin Herbert a Social Media Quarterback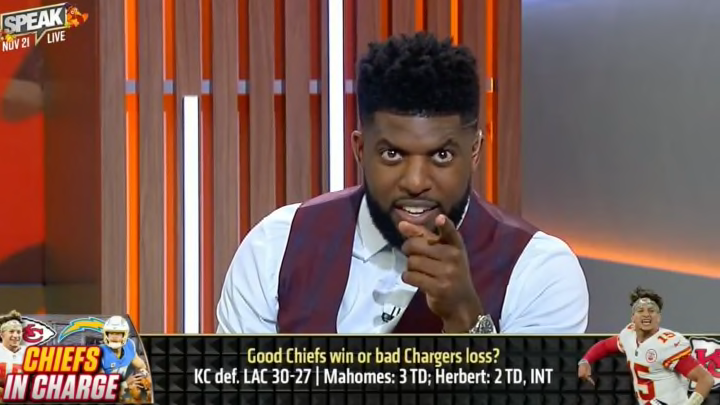 Emmanuel Acho at it again /
Emmanuel Acho is, if anything, original. He goes on television and says things that nobody else is saying. Most of the time those things are not necessary, which is why nobody is saying them, but unique takes count for something and that is a primary reason why he's a central part of Speak on Fox Sports.
We bring to your attention today an example of one of those takes. Acho was discussing Sunday night's barnburner between the Kansas City Chiefs and Los Angeles Chargers during yesterday's episode, and he labeled Justin Herbert a "social media quarterback."
What might that be? We'll let Acho explain.
Okay, we got that out of the way. Here's everything wrong with the concept.
I don't know what social media Acho spends his time on but people absolutely do retweet interceptions and bad sacks. Sure, they might do so out of a hater mentality more than anything, but if anything mistakes are more magnified on social media as a general rule of thumb. Anyone who has ever had a typo in a tweet can attest to this. It's also a weird way to criticize Herbert. He makes so many sick throws people want to watch them all the time on Twitter? Doesn't sound like a problem to me.
As far as the Tua Tagovailoa/Jalen Hurts thing... both of those two have been praised endlessly this season. Both have been in the spotlight in the past for their flaws as passers because those flaws exist but it's not like Herbert has escaped criticism. And the whataboutism in regards to Herbert's pick on Sunday night is absurd. He got the ball back with 30 seconds left and had to move the ball at least 40 yards. Nobody is getting on him about that interception because it was a nearly impossible situation for pretty much every quarterback! If Tua or Hurts were in the same spot, nobody would spend time slamming them, either, because the rational mind understands those kinds of situations will end in failure rather than success nearly every time.
It is too bad Acho took this long to coin the "social media quarterback" idea, though. Imagine the bad takes if people threw that phrase around during Patrick Mahomes' first season.