Draymond Green's Blocking Skills on Full Display in Game 2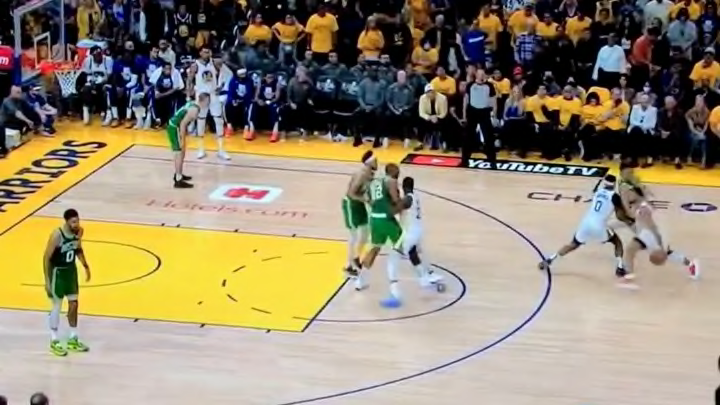 Draymond Green, All-Pro Guard /
Draymond Green cranked everything about his play and personality up to 11 in the Golden State Warriors' Game 2 victory over the Boston Celtics on Sunday night. The Warriors were on their heels after getting obliterated in the fourth quarter of Game 1. Green knew he needed to set the tone. So he did, flying around on defense, attacking the bucket on offense, and generally being an irritant to everybody not in Warriors uniform.
It was, in many ways, the perfect Draymond Green game. And in any good Draymond Green game, there are a lot of plays that toe the line of legality to various degrees. The one that got the audience's attention last night was his dustup with Jaylen Brown that came awfully close to costing Green a second technical foul and an ejection. But the one play that was likely the most impactful came during the Warriors' third-quarter onslaught.
Golden State entered halftime up by two points and managed to extend the lead to 12 over the first six minutes of the third quarter. Then both teams got stuck in neutral for about three minutes and there was very little movement on the scoreboard. Derrick White got called for traveling. Stephen Curry walked the ball up. Green set a screen to get Grant Williams on Curry, then set another screen.
Curry walked into maybe the most open three-pointer he's seen all series. There was nobody within five feet of him. The Celtics had learned their lesson in Game 1 about playing drop coverage on Curry pick-and-rolls and had been pretty disciplined in Game 2. Something went wrong this time and Curry drilled the three to put the Dubs up by 14, the first nail in the coffin for Boston. Upon review, it turns out that "something" was Green pulling his best Quenton Nelson impression and simply blocking both White and Al Horford out of the play entirely.
Masterful work, really. First he pushes White off Gary Payton II in order to free the guard up to screen for Curry. Then he pushes Horford to the free throw line to ensure he cannot recover for White. That'll give the greatest shooter of all time more than enough space to pull the trigger every time.
There were a lot of bad calls in Game 2 that will be rectified in some fashion for Game 3, but the refs probably aren't calling Green on moving screens very often. Such is the benefit of a championship pedigree. The solution for Boston is obvious-- bring in Matthew Judon to swim-move Green whenever he does this and swat Curry's shot. Easy peasy.