Dr. Fauci Had a Good Laugh When Asked About the Mental Competency of Donald Trump and Joe Biden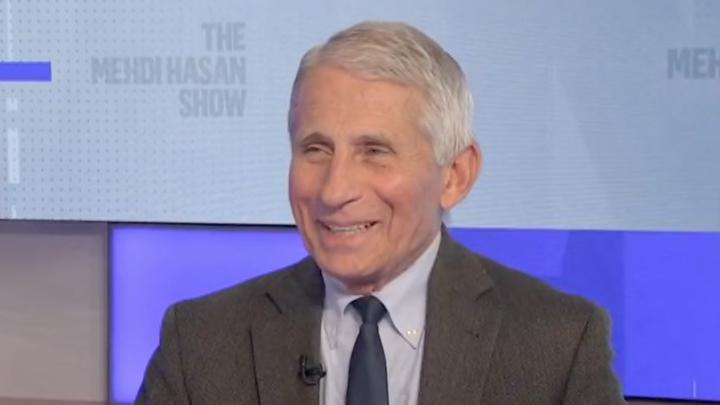 Dr. Anthony Fauci sat down Mehdi Hasan on MSNBC for a free-flowing conversation that occasionally touched on the pandemic. The former director of the National Institute of Allergy and Infectious Diseases (NIAID) and chief medical advisor to the president hasn't been around as much since he retired. Not that we've needed him since we as a society decided to just start ignoring COVID. Either way, it was nice to see him again and Hasan took the opportunity to ask Facui a very pointed question about whether Joe Biden or Donald Trump is more "intellectually or mentally competent."
Fauci, who said he did not want to get into a political discussion, actually gave a very apolitical answer. Even if he was cracking up throughout most of it.
"Nice try," said Fauci. "I can make a statement. The one thing I can tell you, that I spent two years with Joe Biden in the White House and he is quite mentally sharp." Presed by Hasan, Fauci said, "They're both mentally sharp." Hasan then brought up the whole injecting disinfectant into people's arms thing and Fauci was incredibly kind to the former president. "There's a difference between mentally sharp and bad judgement."
That's certainly one way to put it, but I guess that's just science. You can watch the entire interview below.