Donald Trump Seems to Agree With Joe Biden About the Nine Wonders of the World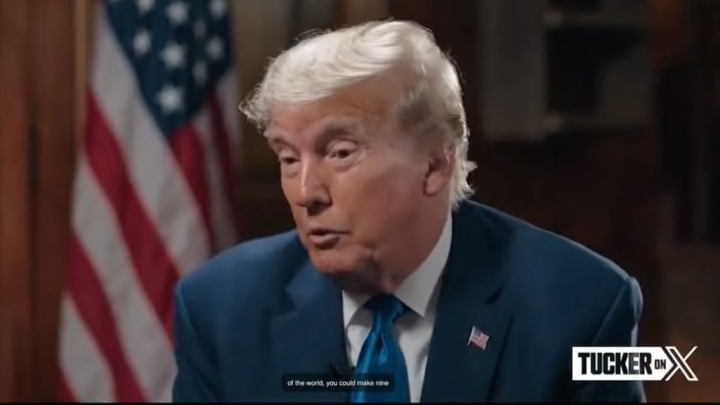 Donald Trump skipped the Republican presidential debate on Wednesday night, instead opting to do a pre-taped interview with Tucker Carlson that aired on X, a rival social media site to Trump's own Truth Social. About midway through the interview Trump was asked about Chinese influence in Cuba, which turned into a history lesson on mosquitos at the Panama Canal and a one-person debate about how many wonders of the world there are.
"We built a thing called the Panama Canal. We lost 35,000 people to the mosquito. Malaria. We lost 35,000 people. We lost 35,000 people because of the mosquito. Vicious. They had to build under nets, it was one of the true great wonders of the world. As he said, one of the nine wonders of the world. No, no, it was one of the seven, it happened a little while ago. You know, nine wonders of the world. You could make nine wonders. He would have been better off if he stuck with the nine and just said, 'Yeah, I think it's nine.' But this is one of the true seven wonders of the world."
According to the History Channel website, about 25,000 people died during the construction of the Panama Canal and most of those deaths happened while the French were leading the construction efforts in the late 1800's. Fortunately, Trump didn't get too distracted by the numbers and segued to a bit about the seven or nine wonders of the world.
Without mentioning him by name, Trump appears to muse about how Joe Biden recently called the Grand Canyon one of the Nine Wonders of the World. And Trump gives him some future guidance saying he should have just gone with it.
In case you were wondering, Panama Canal is on some Seven Wonders of the World lists, while the Grand Canyon made CNN's Seven Natural Wonders of the World list in 1997 and was the eighth addition to USA Today's New Seven Wonders list based on Good Morning America viewer feedback in 2006. So the moral of the story is, when you say something and it doesn't seem like it's true, just go with it.