Suns-Nuggets Refs Miss Crucial Foul on Deandre Ayton During Late-Game Jump Ball vs. Nikola Jokic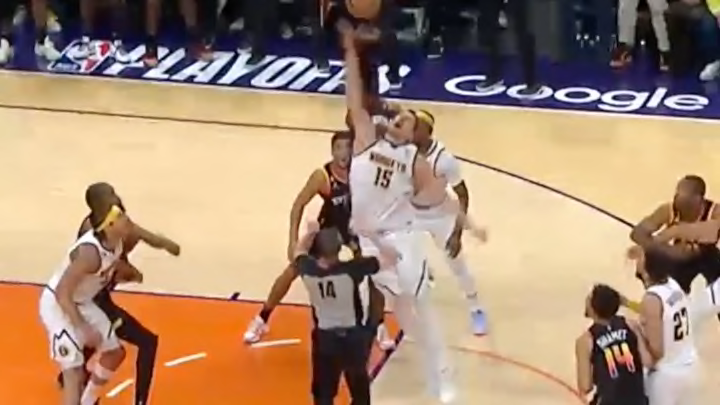 Deandre Ayton and Nikola Jokic /
Game 4 of the Phoenix Suns-Denver Nuggets series was an absolute barnburner, with Devin Booker going nuclear again and Nikola Jokic doing everything he could to match him point for point. The Suns would ultimately edge out the Nuggets 129-124 to send the series back to Denver all tied up, but they got some help in the form of a critical no-call on the way.
With 23 seconds remaining in the fourth quarter, the Suns were winning by three points. A jumpball was called between Deandre Ayton (who had a great bounceback game after a disastrous Game 3 outing) and Jokic. As the ball was thrown up in the air, viewers can clearly see Ayton grabbing Jokic with his inside arm as he goes up for the tip, which is 100 percent a foul every single time.
Just not this time, apparently. Every referee on the floor missed it. Ayton was able to get the tip and the Suns would go on to win.
And in slow motion:
It is fair to question if this was entirely necessary given that Ayton, while the worse player, is a significantly better athlete than Jokic. He probably would have won the jump ball nine times out of 10 without dragging Jokic down at the same time. But he did it and the refs missed it and the Nuggets should be pissed. That's the sort of game-changing missed call that officials cannot afford to have in the final moments of playoff games.
Matters are made even worse by the fact that referees missed a very similar infraction by Kevon Looney during the Warriors-Kings series that led to a black eye for Domantas Sabonis. It certainly makes one wonder where the hell these officials are looking during these jumpballs. Are they as caught up as the rest of us in seeing what happens? They shouldn't be! That is not their job!
It obviously is not fair to think this gifted the game to the Suns. Even if the foul was called the Nuggets would've had to make up the three-point deficit regardless. At this rate though it won't be long before a missed call of this exact ilk decides an even more important game.