Watch Daniel Jones' Hilarious Missed Tackle Attempted on Devon Witherspoon's 97-Yard Pick-6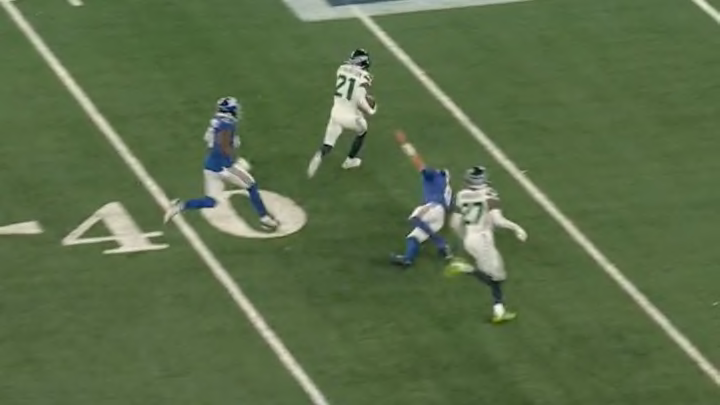 The New York Giants played another horrible game on Monday Night Football. Matched up against the Seattle Seahawks with Joe Buck and Troy Aikman on the call to end Week 4, the Giants offense struggled again, managing just three points through three quarters. The Giants briefly looked like they had a drive going but Daniel Jones threw a pick-six to Devon Witherspoon.
We all know Jones has wheels so it was no sure thing that Witherspoon could go 97 yards, but he quickly made Jones look silly with a simple change of direction that left the quarterback lunging, falling awkwardly and hilariously.
From there it was all amazing reactions. From Daniel Jones confused face to Giants fans shocked and depressed to Brian Daboll freaking the F out.
The Giants have now had exactly one good half in the entire season and Jones has been pretty much the entire time. He came into Week 4 with four interceptions and just two touchdowns. There is just not much to feel positive about if you're a Giants fan. Unless you think Jones could replace Saquon Barkley at running back.