Brian Daboll Not Happy With Daniel Jones After Devastating Pick-Six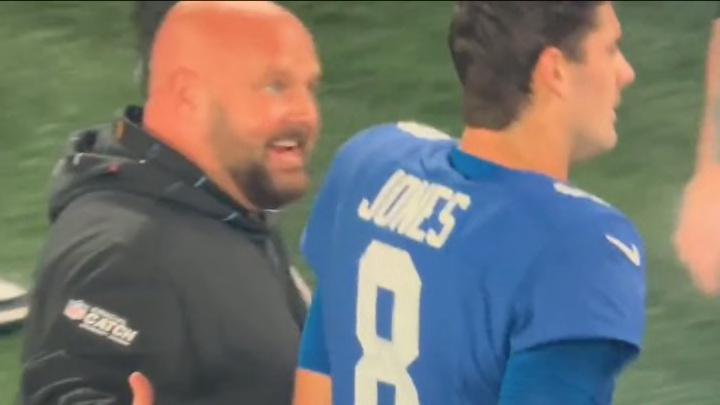 The New York Giants spent the first 45 minutes of Monday Night Football getting absolutely wrecked by the Seattle Seahawks defense, with rookie Devon Witherspoon serving as primary destructor. Momentary signs of life from Daniel Jones' unit evaporated when he tried to wedge a pass into tight coverage at the goal line near the end of the third quarter and then found himself turning into a meme on a feeble tackle attempt as Witherspoon raced the other way for what appears to be a game-securing pick-six.
Giants coach Brian Daboll, like every other fan doing the Surrender Cobra pose in the crowd, did not much care for the 14-point swing and endeavored to get to the bottom of what the heck Jones was thinking in a frustrated sideline confab. It could just be the camera angle, but it doesn't appear that Jones offered much in the way of an explanation.
There are still 15 minutes for Jones to lead a miraculous comeback if you'd like to throw some money behind a super longshot. If that doesn't happen, though, the Giants will be 1-3 and objectively rudderless. And have three humiliating primetime performances on their ledger already.