Dan Orlovsky Shocked and Amused to be Blamed For Stephen A. Smith's Tua Take Going Viral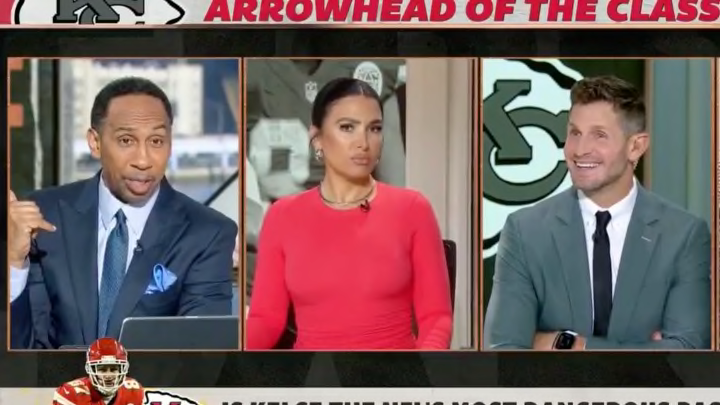 Tua Tagovailoa played an uninspiring game on Sunday night as the Philadelphia Eagles beat the Miami Dolphins, 31-17. Tagovailoa completed 23 passes for a season-low 216 yards an interception and just one touchdown in the loss. If there was going to be an opportunity to double-down on any criticism of the Dolphins quarterback, this was it, but Stephen A. Smith didn't fall for it on Monday. Instead he took the opportunity to blame Dan Orlovsky for people reacting to his dismissive commentary about Tagovailoa last week before assuring the viewers he didn't give a damn what they thought.
"It's your fault that damn nonsense went viral. It was your fault. Yes, it was. Yes, it was. Because I sat up there and it was taken out of context, but it's alright. I know damn well if I'm watching a game I know all Tua ain't doing is throwing two or three yard passes. I know better than that."
As usual, it's not the take that makes a clip. it's the reaction. Shannon Sharpe smiling while Orlovsky tries to get an explanation as to why it's his fault. And Molly Qerim mercifully seems to have missed the discourse. Not that it matters because, "You know I don't give a damn what these people say."
While the Dolphins struggled on offense last night, Tua and Tyreek Hill did hook up on an absolutely gorgeous 27-yarder for the team's lone offensive touchdown of the game.
Despite the loss and the unimpressive stat line, you can't deny that was longer than two or three yards down the field. Long enough to annoy anyone who might have slandered him a few days earlier. Not that he cares.