Dan Orlovsky on Friendship With Pat McAfee & What He's Bringing to ESPN
"One of the smartest idiotic people I know"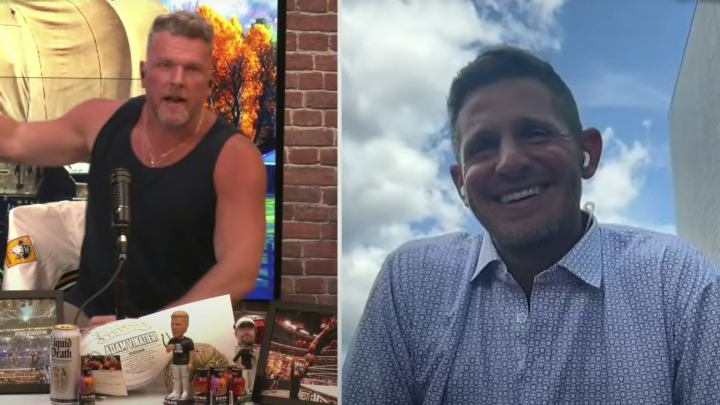 Dan Orlovsky and Pat McAfee /
Dan Orlovsky and Pat McAfee worked together once before, when they were both members of the 2011 Indianapolis Colts. Over a decade later they're on the same team yet again. The Pat McAfee Show will officially join ESPN's daily studio show lineup on Thursday, September 7. McAfee has worked with ESPN and Orlovsky in the past, but next week will mark the beginning of his tenure as a full-time ESPNer. Like network chairman Jimmy Pitaro, Orlovsky is excited for what McAfee will bring to the table. Unlike most others at ESPN, though, Orlovsky has years of friendship to draw upon to reinforce his excitement.
Speaking to The Big Lead on a conference call, Orlovsky described what it was like to watch McAfee's profile grow in the media space after their shared NFL experience.
"I've known Pat for 10-plus years now," Orlovsky said. "Played with him in Indy so there's that friendship that started as players. I was there by myself, my wife was pregnant and living in Philly. I was there with him and we went through some tough moments as a team. There was that initial friendship.

"I sat in a car with Pat once in New York City, I think the night of the Heisman. This is when I knew Pat as Pat McAfee, I played football with you, you're one of the most outrageous people I've ever been around. I was sitting in the car and talking with him and he was telling me about the podcast [the Pat McAfee Show], trying to generate that into what it's become. I remember looking at him after 30 minutes of conversation like, 'You're one of the smartest idiotic people I know. I didn't know you were this smart.' [His] personality is so outrageous but he is so intelligent. I was taken aback by it. How smart he was, how business-savvy he was. Ever since then I've paid a ton of attention to his stuff, obviously."
Thanks in part to that friendship Orlovsky has been appearing on McAfee's show for several years now. There was even a time when he and other ESPN personalities were appearing so often it became a problem for the network. That, of course, is no longer an issue and Orlovsky has been a regular guest for the better part of two years now.
A media veteran in his own right, Orlovsky thinks McAfee's biggest strengths-- the strengths that helped him grow his show from the ground-up and captured ESPN's interest in the first place-- will play well with the new viewership he'll be exposed to starting next week.
"When [the signing] became official, I was obviously super excited because I think the thing that's so endearing about Pat, and it's not in a disrespectful way but he doesn't let people's opinions of him deviate who he is," said Orlovsky. "We need more of that in the world. We certainly need more of that in the sports media world.

"The second thing is, sports should almost all the time be [viewed] through a vantage point of fun. Sports are fun. They're fun to play, they're fun to talk about. We get really serious at times and I'm certainly guilty of it. I think he always views it through that vantage point. And I think him just being very much so real, trying not be phony and staying true to himself and so does his crew. Bringing that to ESPN, there's a reason Stephen A. [Smith] is so popular. Stephen A. has a lot of those qualities. The more that people who are at the forefront of talking about sports and having fun talking about sports have those personality qualities, I think the more it is relatable to the people watching. More often than not the people watching Pat are a lot like Pat. I think that's… I don't want to say one of the lost things in sports media, but we're all regular people in many ways. We just somehow got on TV. I think that's a pretty good quality of his, and Pat coming to ESPN is awesome."
The Pat McAfee Show will first air on ESPN on Thursday, September 7 from 12-2pm ET.