Dan Orlovsky's Matthew Stafford Victory Lap Was Poorly Timed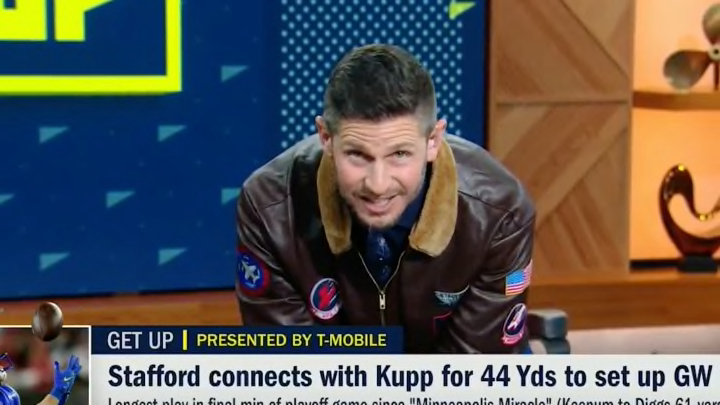 Dan Orlovsky in his Top Gun jacket /
Yesterday was a great day of football and an even better day for longtime Matthew Stafford fans. The Los Angeles Rams defeated the Tampa Bay Buccaneers almost entirely due to Stafford's play. He was the main reason they went up 27-3 and then made the throw of the game to Cooper Kupp with only seconds remaining to set up their game-winning field goal. The Rams did blow a 24-point lead in order to need that field goal in the first place, but nobody should blame Stafford for that. He was as good as they needed him to be and exactly what the team envisioned when they traded two first-round picks for his services this offseason.
There may be nobody happier about that than Dan Orlovsky, who has spent the whole season proclaiming that Stafford would take the Rams to the next level. He took a victory lap this morning, donning a Top Gun jacket while trumpeting to all that would listen that he would prefer Stafford in a must-win situation over any other quarterback in the NFL.
Usage of "nut-cutting time" aside, Orlovsky has a good argument. Anybody who watched Stafford during his time in Detroit can attest to his clutch ability. In fact, before coming to the Rams, Stafford was probably the most clutch quarterback in the league who hadn't won anything of note. He authored more than his fair share of insane comebacks over the years.
But it is extremely hard to take any of those claims seriously after the other game that happened yesterday. I am, of course, referring to the Chiefs-Bills slugfest that saw 31 points scored after the two-minute warning. Could Stafford have converted a fourth and 13 down five? Could he have scored a go-ahead touchdown with a minute to go? Could he have gotten his team into field goal position from his own 25-yard line with 13 seconds remaining?
Maybe he could, but we just watched Josh Allen and Patrick Mahomes do just that. Stafford's throw to Kupp was the biggest toss of his career and was immediately outmatched by four or five different throws a few hours later.
Orlovsky should bask in the moment but it is undeniably poor timing to make bold claims about Stafford's place in the clutch QB hierarchy.