Dan Orlovsky Says Bills Must Have the Courage to Tell Josh Allen to Grow Up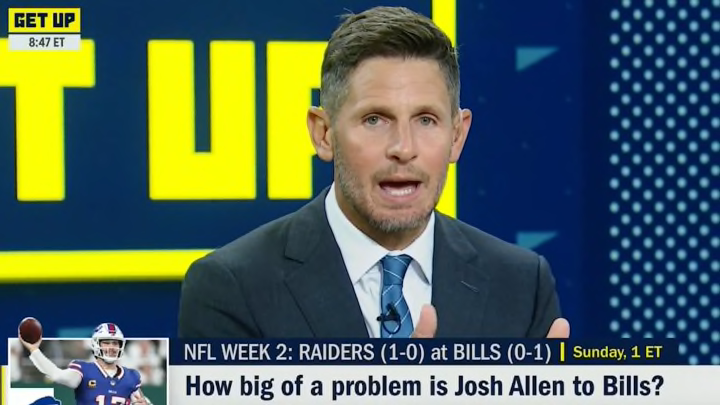 Dan Orlovsky /
The Josh Allen of old was back in full force on Monday Night Football earlier this week. And not in a good way! The star quarterback threw three interceptions against the New York Jets thanks to utterly reckless decision-making and cost his team a layup victory against the demoralized home side that lost its own star QB after merely four snaps. Allen has always been prone to such extremes and the Buffalo Bills just have to take the good with the bad but he's reached the point where this level of bad is no longer excusable.
This is his fifth season in the league and next year his $258 million extension will kick in. If the Bills are to remain contenders Allen has to be better. He's rightfully borne the brunt of the criticism since the Week 1 loss and on Thursday Dan Orlovsky took him to task. The ESPN analyst said someone on the Bills have to have the "courage" to tell Allen it's time to grow up.
Harsh but true. Allen has been in the league too long to throw arm punt interceptions when he had a wide-open lane to running for a third-down conversion or to fumble the way he did on MNF. QBs are going to make mistakes and Allen is always going to do something wacky out there because he has more confidence in his physical abilities than maybe any of his fellow quarterbacks (which is really saying something). But he can't be wacky all the time. When he is, you get the 2020 Houston Texans playoff game where he accomplished all this in one game.
The weird thing about Allen is that we feel like we've seen him figure it out, especially in 2020 when he got the Bills to the AFC Championship Game. Yet he still threw 10 picks. The bar is much lower for him compared to his counterparts when it comes to turnovers because much of his greatness is tied to making turnover-worthy plays touchdown-worthy plays. Monday's performance couldn't clear even that.
Smart money is on Allen to string together a few good games but if the Bills want to win anything important he'll need to show a broader model of consistency under center. Otherwise they'll be stuck in neutral.