Dan Le Batard: Dana White Probably Won't Face Consequences From ESPN or Anyone Else For Slapping His Wife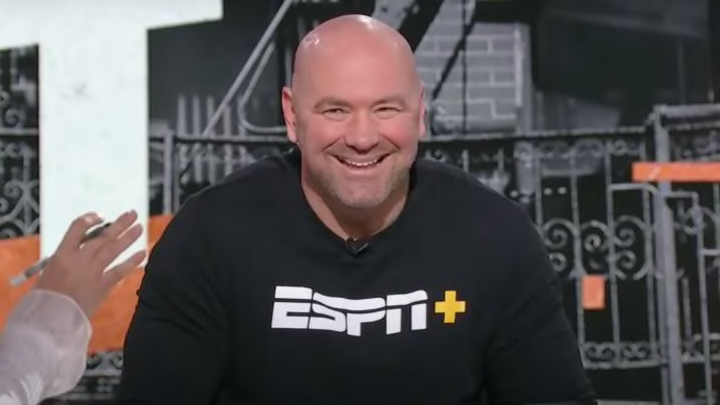 Dana White hit his wife on New Year's Eve. The incident was caught on video and appeared on TMZ on Monday. The UFC President then did an interview with TMZ confirming the video was real. This morning Dan Le Batard discussed ESPN's potential coverage of the incident, wondering how it might compare to a similar story involving Roger Goodell or an NFL owner.
"I am curious how ESPN is going to cover the news of Dana White and video of him slapping his wife at New Year's festivities. Apologizing, saying there's no excuse. Saying that he had been drinking. If it had been Roger Goodell or the owner of an NFL team, I imagine it would be covered with a great deal of zeal even though ESPN is a corporate partner with the NFL."
"They're compromised here by a business interests. And I did skip a step because I don't believe there will be consequences for this because there can't be consequences for it unless the level of outrage stays in a place. He's so powerful, so independent and can even control to a degree the media monster with which he has a partnership. Then I don't know what the consequences will be to video of you slapping your wife at a party and ... slapping her back because of the fight that you've gotten into no matter the quotes from your wife saying how out of character it was. Usually that video to a person of power that video is hugely damaging everywhere in sports. Everywhere in sports, but this guy works in a plane with his own outfit and a power that doens't come with a great deal of governance. Like, who is there to punish him? And if it happened with Goodell or an owner - he's not a commissioner - but if it happened with Goodell or an owner do you imagine it would be quiet because I don't."
ESPN, who broadcasts UFC events and routinely welcomes Dana White to their shows to promote fights, picked up the story on Monday night and a link currently sits on the side of the homepage under Top Headlines reading, "UFC's White on altercation with wife: 'No excuses.'" Other than that?
Well, it's a little complicated. Right after the White news broke Damar Hamlin collapsed on Monday Night Football and became an all-consuming story. So maybe ESPN would be discussing Dana White this morning, but they aren't.
So when will ESPN address this? It's clearly news. It's on the front page of ESPN.com. White has been in-studio for Get Up. He was even in-studio with First Take a few years ago to defend bringing Greg Hardy to the UFC and promote his UFC debut on ESPN+. White hitting his wife certainly qualifies as something these shows should discuss.
But will that be enough? White is the UFC President and God-King. The only people above him are a few investors. It might literally be up to ESPN to do something - anything - about White seeing any sort of punishment for hitting his wife. And how does it look for ESPN when White launches his professional slapping league, Power Slap, on TBS early this year? Talk about timing.
According to MMA Junkie, 2023 is the last year of the UFC's current deal with ESPN. Could this be used against White and the UFC in negotiations? Does ESPN really want to have him front and center after this incident? We won't have to wait long to find out as the next UFC event airs on ESPN+ on January 14. If ESPN doesn't discuss White slapping his wife before then, will anyone even remember?