Fake Executive Tells The Daily Beast That Real Donald Trump Interview Might Have Been Fake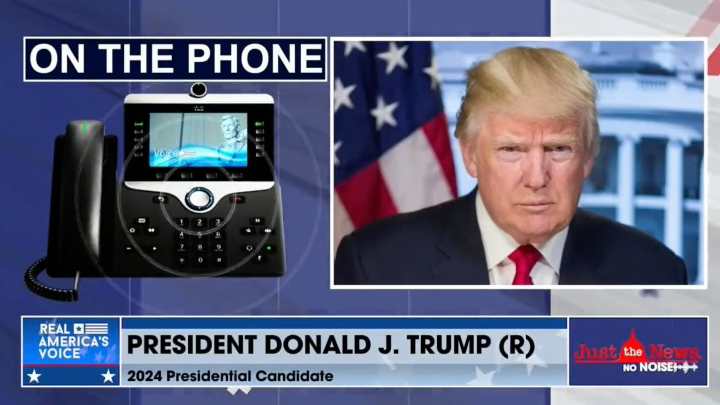 Donald Trump called into Real America's Voice, a right wing network, on Thursday for one of his patented wide-ranging interviews. As they so often do with Trump, things got weird, but not for the usual reasons. The interview sounded a bit off and many people thought it might have been a prank caller using AI.
So The Daily Beast's Zachary Petrizzo reached out to RAV owner Robert Sigg and was told that the network was doing an investigation into the matter, which fueled speculations that it was indeed a fake. But then the story took another twist as a spokesperson for RAV said that Sigg was not the person on the other end of the conversation with The Daily Beast.
https://twitter.com/badfoxgraphics/status/1697423569758679141
Donald Trump posted a snippet of the interview on his Truth Social page, which means Trump was probably the actual caller for the 17-minute interview. Or he's become such a parody of himself that even he can't tell the difference between himself and a computer program that has listened to his greatest hits.
The Daily Beast article has been updated to include this note.
Editor's Note: This story has been updated to remove quotes attributed to the owner of Real America's Voice, Robert Sigg, saying he is investigating whether the call was a prank and criticizing network staffers. A Daily Beast reporter had a conversation by text with a person who identified themselves as Sigg, on a number public records show was once associated with Sigg—but a spokesperson for Real America's Voice said that it was not Sigg and is not his current number.
So in the end the only person who actually got tricked was Petrizzo, who never would have texted Sigg's old number if multiple people didn't think the original call was a fake. The question is, who has the old number and why did they play along with such a media friendly response? If you take a step back, it's kind of weird on every level.
And on top of all that, this is also kind of a fascinating modern twist on the legendary tales of Trump calling newspapers to talk about himself under fake names John Barron and John Miller. Instead of using a computer, Trump simply pretended to be PR reps without bothering to disguise his voice. Imagine the press Trump could have cooked up for himself with AI at his disposal.