D'Angelo Russell Had No Interest in Listening to LeBron James During Lakers' Opening Night Loss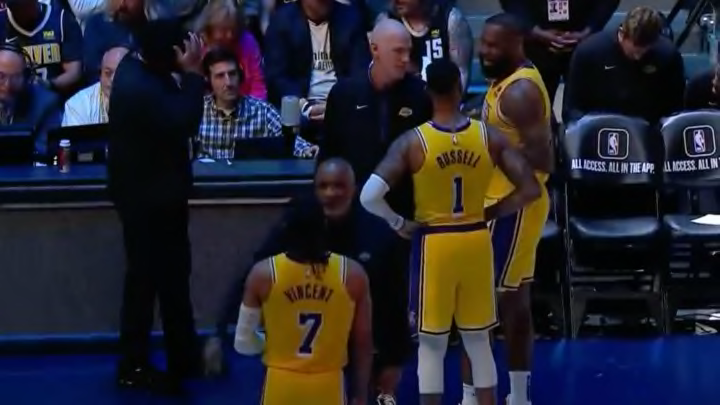 Los Angeles Lakers /
The Los Angeles Lakers were handled without much trouble by the Denver Nuggets in the very first game of the 2023-24 NBA season. Which shouldn't be a huge surprise given one side is embarking on a title defense and the other is relying quite a bit on 39-year-old LeBron James to drive them to victory. Among the various issues that presented themselves last night for Los Angeles was the play of D'Angelo Russell; the point guard shot 4-for-12 from the field for a total of 11 points in 36 minutes of play. Anybody can have a cold shooting night but Russell didn't defer after it became clear his shot wasn't falling, leading to a pair of back-breaking turnovers in the last five minutes of the game that effectively nailed the Lakers' coffin shut.
Russell's night can be neatly summarized with the below video in which LeBron is recorded on the TNT live mic explaining to Russell that he can see the whole floor from the elbow when the Nuggets switch on pick-and-rolls. He doesn't say it out loud but the clear implication is that Russell should find LeBron the next time he finds himself in that spot so The King can make a play. At some point afterwards that exact sequence came to fruition and instead of passing to LeBron, Russell jacked up an isolation three.
Classic D'Angelo right there.
Nobody should really be surprised by any of this by now. Russell is who he is. He's never going to be a true point guard who regularly makes the right play. He's going to get his, and when his shot is falling, that is good for his team. When it's not, you get last night.
Russell has been like that for years but he spent all offseason talking about how he wanted to play better defense and team basketball after he got benched in crunchtime during LA's playoff run last spring. Old habits die hard, in fairness. Russell isn't going to get any benefit of the doubt, though. The clip above exemplifies who he is as a player and the Lakers knew that when they signed him to a new contract.
It's a long season. Maybe Russell will change. But last night suggests he's got a lot of work to do if he's still dedicated to becoming the kind of player who can stay in the lineup when it matters most.