Roundup: 'Cyberpunk 2077' Reviews and Controversy; Northern Lights Are Having a Moment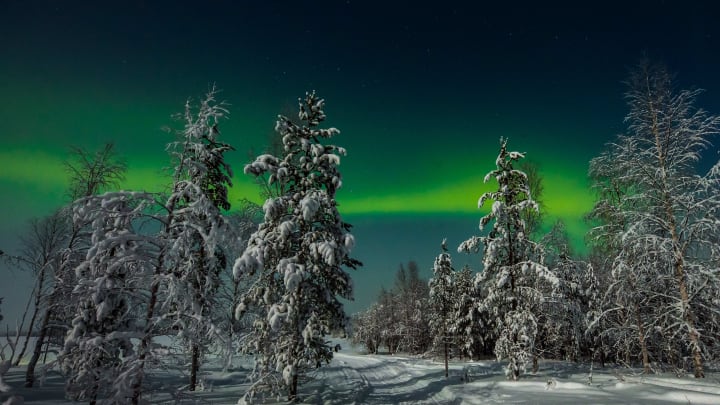 The Northern Lights. / Thomas Niedermueller/Getty Images
America set a new mark with 3,000+ COVID deaths yesterday ... the vaccine is not coming fast enough for nursing homes ... Nicolas Cage will host a Netflix series about swearing ... the FTC and 48 US States are suing to break up Facebook ... Julia Stiles was a cyberpunk teen on 'Ghostwriter' ... the Northern Lights could shine over the northern states this week... scientists discovered an iridescent snake ... fast food joints took $1 billion in PPP and the money went to corporate ... Lorde went to Antarctica to learn about the climate crisis ... why do we still love The Office ... dry ice sales are booming ... honeybees used poop to keep murder hornets away ... Cyberpunk 2077 could induce seizures ... other than that the reviews are great ... Sg is making a 110" television ...
James Harden needs six (6!) negative tests before he can join training camp. [ESPN]
A look at the new, restructured MLB minor league affiliates. [The Athletic]
Tim Kurkjian and the Normalcy of Anomaly. [The Big Lead]
The Baseball Hall of Fame should enshrine players who deserve it before it's too late. [Sports Illustrated]
A look back at some of the most clutch performances in the history of The Game. There will be no new entries to this list in 2020. [FanSided]
The Panthers' COVID outbreak traced back to players gathering outside the facility. [PFT]
Michael Jordan's golf course in Florida has food delivery drones. [Sporting News]
Jets players are not tanking for Trevor. [Bleacher Report]
Adam Sandler's 'The Chanukah Song' was debuted on SNL 26 years and one week ago today. The original version would chart two years later when he put it on his second album. An updated version was recorded and released in 1999. Part III was performed on SNL in 2002 and Part IV was performed at a Judd Apatow event in 2015. Anyway, have a happy, happy, happy Hanukkah.
This is an awesome twist on the Home Alone house stuff. The people who lived across the street shot video every day and just shared it publicly for the first time with WGN.
A Wayne's World reunion.