Craig Carton: Jets Will Dominate AFC, Chiefs and Bengals Playing for Second Place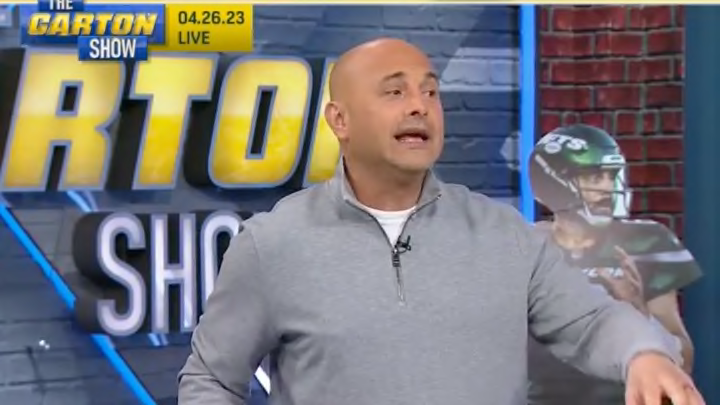 Aaron Rodgers plays for the New York Jets now so they should be even better than last year. We're all on the same page there. But some corners of the locker room and certain corners of the media are working damn hard to preemptively spike the football on this team accomplishing anything. It's actually quite glorious to watch and catalog for future reference, just in case the sixth-best quarterback in the AFC in one of the toughest divisions doesn't breeze into the playoffs amid intense backpage scrutiny.
Anything worth doing is worth doing big, so Craig Carton got on television this morning and said with a straight face that the Jets will dominate the AFC.
"It's a changing of the guard," Carton explained. "Kansas City and Cincinnati are now playing for second place in the AFC."
Okay. The wheels of viewership are greased with takes the person delivering doesn't even believe. And a very tan Rex Ryan was equally buoyant about Gang Green yesterday. But even the most demented Jets fan who goes to the draft every year just to get drunk and mad knows that Rodgers, at this point of his career, is not Patrick Mahomes. Or Joe Burrow. Or Josh Allen. He might be Justin Herbert but probably isn't. He is currently better than Trevor Lawrence but for how long.
There's no glory in saying the Jets will go 10-7 and might win a playoff game. It's boring, even if more responsible. Carton is just doing the Succession thing of saying the biggest effing number. Probably got someone having a 6:45 a.m. vodka soda at an airport bar all fired up, which is the ultimate goal.
Perhaps New York is awesome. Perhaps they are playing in championship games. Not rooting against that. But good Lord people are saying some stuff that will make for great post fodder should this whole thing fall apart. It being April and all, we're just getting started.