Rex Ryan: It Ain't No Fun When the Rabbit's Got the Gun, And the Jets Have the Gun Now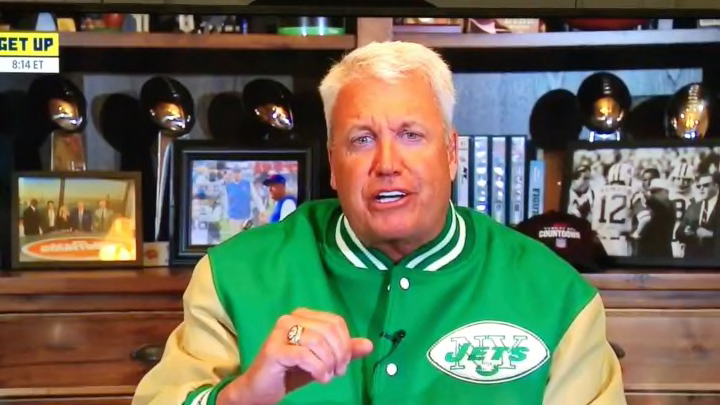 Rex Ryan /
The New York Jets officially acquired Aaron Rodgers yesterday which means today was the day where the team's supporters would come out in force on televisions across the country and bask in the glorious optimism that accompanies such a blockbuster transaction. Worries about Rodgers' ayahuasca habits or near-retirement this offseason are for another day. Jets fans are living in the moment right now and one need look no further than Rex Ryan on Get Up this morning for proof.
Ryan appeared onscreen wearing a Jets letterman jacket and one of his father's Super Bowl rings won with the franchise. He then went on a victory lap monologue that concluded with the "rabbit has the gun" analogy and told the AFC East that it ain't so fun when the Jets have the gun.
Ryan and the rest of the Jets faithful need to enjoy this moment because recent history suggests things will go catastrophically wrong in a variety of unexpected ways sooner rather than later. But Rodgers is a Jet. That's all that matters for now.