Cowboys Safety Jayron Kearse Lined Up Very, Very Offsides On Third Down to Extend 49ers Drive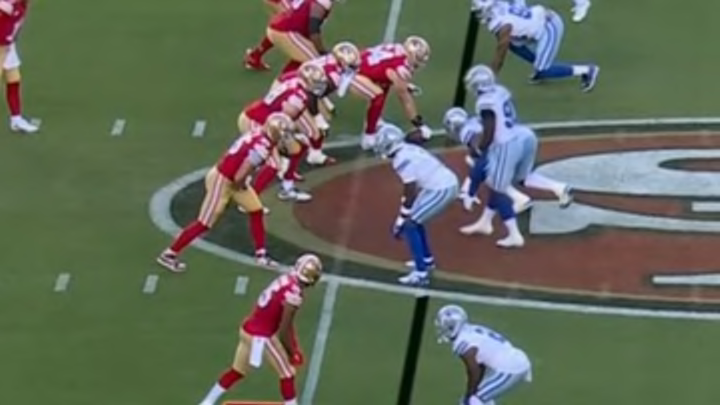 The Dallas Cowboys and San Francisco 49ers met on Sunday Night Football in Week 5. It was a primetime rematch of the game that ended with Ezekiel Elliott lining up at center during the most recent edition of the NFL Playoffs. It's unlikely tonight's game provides a highlight that funny or memorable, but it's still worth noting just how damn far offside Jayron Kearse lined up on this play during the first quarter.
Kearse, a safety in his third season with Dallas, appears to be matched up with George Kittle there. So it's understandable that there's focused his man. However, he should at least be vaguely familiar with where the line of scrimmage is. You really can't just line up in the other team's backfield like that.
Especially on 3rd and 5. Brock Purdy threw a rare incomplete pass to Christian McCaffery on that play and the 49ers would have had to punt. Instead, Kearse gave them a free set of downs. Of course, the Niners ended up punting so it doesn't really matter at all.
It's just that it's funny because he's not supposed to be standing there but there he is. Right on the line he's no supposed to touch. It almost looks photoshopped.