Latest NFL Leads
Absolute Chaos at AT&T Stadium as Fans Rush For Standing Room Only Seats Before Cowboys-49ers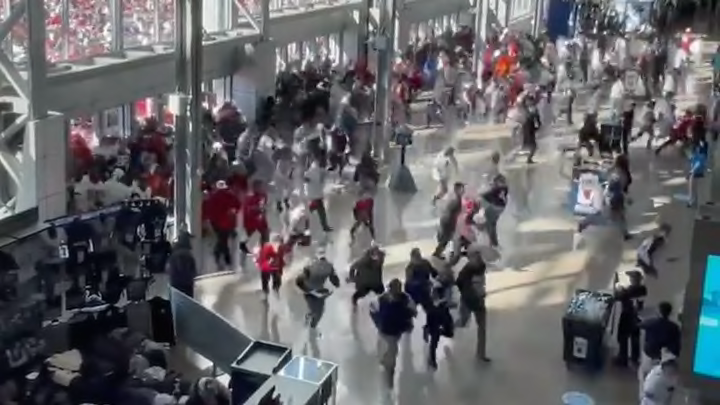 The fans /
The San Francisco 49ers are visiting Jerry World to play the Dallas Cowboys today. Given the status of the Bucs-Eagles game and the likely possibility that Patrick Mahomes and the Chiefs swiftly and efficiently take Ben Roethlisberger behind the shed on Sunday night, Niners-Cowboys has potential to be the best game of the day. Given that it's also the only game of the day with a spread of less than a touchdown, this is a popular opinion.
Two hours before gametime, the Cowboys opened up the doors to AT&T Stadium, which caused an absolutely insane mad rush by hundreds of fans hoping to stake their claims to the standing room only area for the playoff matchup.
This is legitimately straight out of World War Z or any other zombie film. That's what this looks like. Terrifying, especially after two years of conditioning that instilled in all of us an extreme avoidance to crowds like that. It's also nuts that people are this desperate for standing room tickets. I get it's a playoff game and everything, but is it worth the risk of getting trampled instead of just... watching from your couch?
Hats off to these brave warriors, but the Cowboys might want to think about a more organized alternative before someone ends up seriously hurt.