Two Cowboys Fans Caught Falling Down While Running Into AT&T Stadium For Home Opener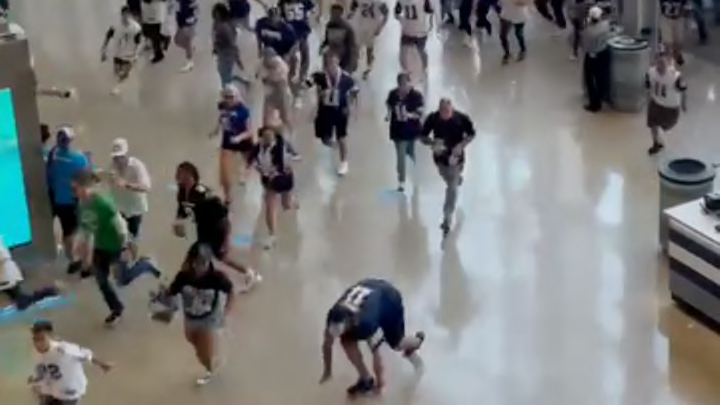 The Dallas Cowboys have a very passionate fanbase. That's why a bunch of them line up outside AT&T Stadium for every home game so they can sprint to the best standing room only spots as soon as the doors open on gameday. We saw what that chaos looked like ahead of their playoff game against the 49ers back in January and they were back today for the team's first home game of the season. This time Jon Machota of The Athletic caught two people falling down while running in.
This is one of those videos that's worth watching multiple times. Not just because those two guys fell down, but because it looks like a scene out of 28 Days Later. Except the rage only comes if Zach Wilson somehow plays well against the Cowboys defense.
As for the guys who did get caught on the ground, you've got the one towards the top of the screen wearing an 88 jersey who clearly stumbles coming through the door and never recovers. Whether that's an Irvin, Bryant or Lamb jersey, he never stood a chance. A real shame.
Then there's the guy in the Micah Parsons jersey who gets cut off by someone in a Troy Aikman jersey and then tries a jump cut. If you are not an actual running back, do not attempt a jump cut under any circumstances. It will not work out for you.