Violent Brawl Breaks Out Between Commanders Fan and Ravens Fan at FedEx Field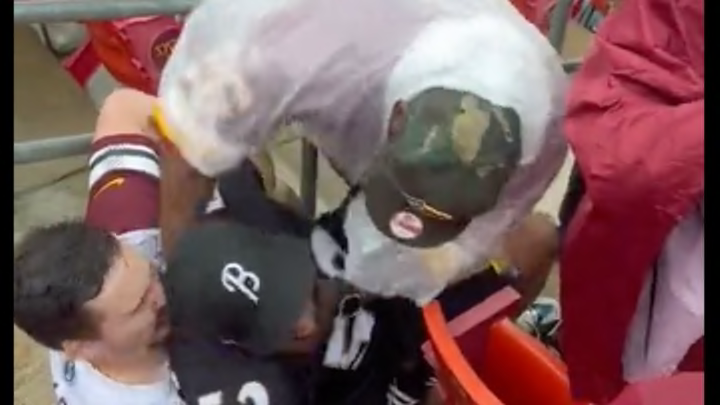 Commanders fan vs. Ravens fan /
The Washington Commanders ushered in the Josh Harris era with a Week 1 win at FedEx Field over the Arizona Cardinals. The on-field play was ugly but what happened in the stands was even uglier. In particular, a brawl between a Commanders fan and a Baltimore Ravens fan got nasty quickly.
It is unclear what prompted it all but at some point during the game yesterday the Commanders fan and Ravens fan got into it. The man wearing a Ray Lewis jersey ended up pinned to the stairs as the Washington fan punched him multiple times. It was shockingly violent.
Based on the angle and the other people in the video it appears this is what prefaced another fight in the FedEx Field seats as two female Commanders fans got into it. However, they appear to have nothing to do with the conflict above. So the Commanders fan going after the Ravens fan got everyone's blood so hot that another fight broke out.
It seems to happen at live sporting events more often than it should. Maybe this will be the year where fans remember how to act and we don't have two dozen of these sorts of posts go up over the next four months. Probably not. But maybe!