Colin Cowherd Debunks Tom Brady Comeback Rumors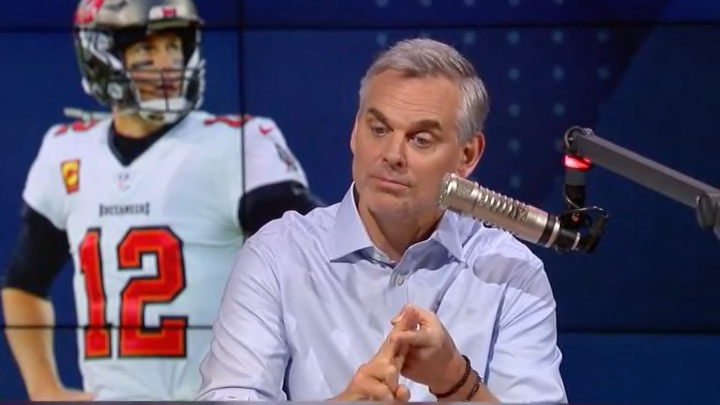 Colin Cowherd /
It has been less than one month since Tom Brady announced his retirement and there are already rumors abound about whether he'd consider returning to the playing field. It makes a certain amount of sense, even if it feels silly. Brady is probably the most competitive NFL player ever, a man who lived and breathed football for more than half his life. It isn't exactly a leap in logic to think he'll miss the game to the point he'd think about coming back. To consider it likely is folly, but simply by Brady's nature it's hard to completely dismiss it.
Mike Florio kicked the hornet's nest on that particular discussion when he said on PFT Live that he believes Brady will end up playing for the San Francisco 49ers. It wasn't a report or anything based on internal knowledge, as he explained. Florio merely read the landscape and gave an opinion on it. It got the NFL world buzzing, because it makes perfect sense on the Niners' side of things. Their latest playoff run proved Jimmy Garoppolo ain't the guy, and if that was clear to the audience it was very clear to San Francisco. Yet they still chose him over No. 3 overall pick Trey Lance, which indicates he has a while to go before he can be considered starter-ready. Enter Brady.
Colin Cowherd doesn't buy it. He spent a few minutes on his show today thoroughly debunking each aspect of the possibility of Brady's comeback and made a rather convincing case in the process.
He's right! Brady's competitive drive is matched only by his attention to detail and obsession with ensuring things go exactly as planned. He probably planned out the next several years of retirement life on a day-to-day schedule. Brady certainly loves football and winning games but un-retiring less than a year after stepping away is an admission both to himself and his family that he was not, in fact, ready. And when has Brady ever been unprepared for anything?
It'll be weird going forward without Brady. Multiple generations currently walking the earth do not know the NFL without him. But if he says he's retired, it's best to take him at his word. Doubting Tom Brady about anything hasn't exactly gone well for anyone in the past. That shouldn't change now.