Colin Cowherd Out Here Quoting Bon Jovi, Making Good Points About Russell Wilson and Washington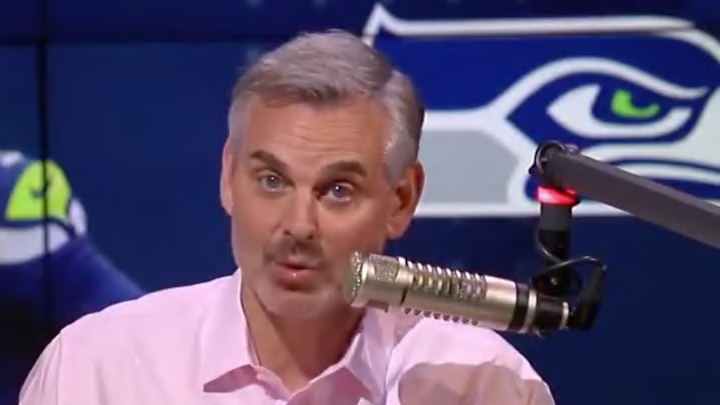 The great philosopher Jon Bon Jovi once said to outline your life in pencil instead of pen, which is great advice for anyone able to tangibly manifest complicated concepts onto paper. Colin Cowherd has taken this wisdom and used it both personally and as a father. And that's great. Because one should strive to be flexible —not paralyzed— by fear of change. It takes a lot of power to give in to the uncertainties of life but it is ultimately more rewarding and healthier than living out decade after decade with a stubborn grip.
Cowherd outlined how he believes Wilson can benefit from making some edits to the plan the superstar quarterback appears to have outlined, which includes at the very least, heavy petting with the Chicago Bears. Why? Because the Washington Football Team is the better option by almost every metric.
Washington has almost $60 million more to play with. A better defense. A better offensive line. An easier division. The opportunity to beat the mighty Dallas Cowboys twice a year as opposed to splitting with the Green Bay Packers. Wilson is 15-3 against the NFC East teams he'd be facing.
Cowherd went on to draw some parallels between Washington this offseason and Tampa Bay last offseason. And we saw how well bringing in a veteran Super Bowl-tested quarterback worked out for the Buccaneers.
We repeat it often around here but it bears repeating. This man is so damn good at his job of talking about sports by himself for nearly three hours a day. The texture of his takes is always way more complex than a viral headline or tweet suggests. They are properly built on a sturdy foundation with the requisite artistic flourishes.
Put it all together and you have Cowherd in that rarefied arena where you want to watch even if you think you don't like him. Or only want to disagree with him. Absolutely no mistake he's remained at the top of his field and promises to stay there into perpetuity.