Colin Cowherd: Lakers' Competency Being Viewed as Revolutionary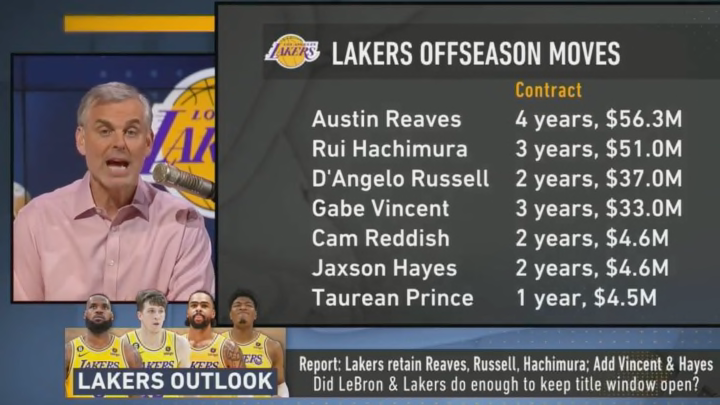 Colin Cowherd on the Lakers /
The Los Angeles Lakers, contrary to the organization's history, did not go wild during free agency this offseason in search of a third superstar to complement LeBron James and Anthony Davis. Instead they mostly kept together the roster that helped reach the Western Conference Finals with a few minor additions. These moves were lauded by The Big Lead over the weekend. Others have different opinions on how the Lakers did.
Colin Cowherd hosted a segment on their moves today and made the case that Los Angeles has been so terrible with roster management in recent years that we all collectively view their decisions through rose-tinted glasses. In other words, they are doing what they should and everyone is celebrating it like it is more than that.
Honestly, a pretty good point. The Russell Westbrook trade was a disaster of such epic proportions that any decisions now made that fall short of "catastrophic failure" feel worthy of celebration. That's only amplified when taking into account that it's the Lakers we're talking about here. Michael Malone is absolutely furious right now, somewhere.
The point that Cowherd is missing here, though, is that it's always been like this for the Lakers. The last few years have proven that Laker-bashing is not nearly as enticing an engagement strategy in the content realm than Laker-praising. There's always money to be made in hailing the purple and gold. One need not look further for proof than how many pundits predicted they'd win the NBA Finals once they exhibited signs of slightly above-average play after finally getting rid of Westbrook.
Whatever the Lakers do will be hailed as revolutionary by those with the loudest voices because that's how the ecosystem works.