Colin Cowherd Compares Austin Reaves to Mac McClung, Determines They're 'Basically the Same Player'
Colin Cowherd used an absurdly small sample size to compare the two players.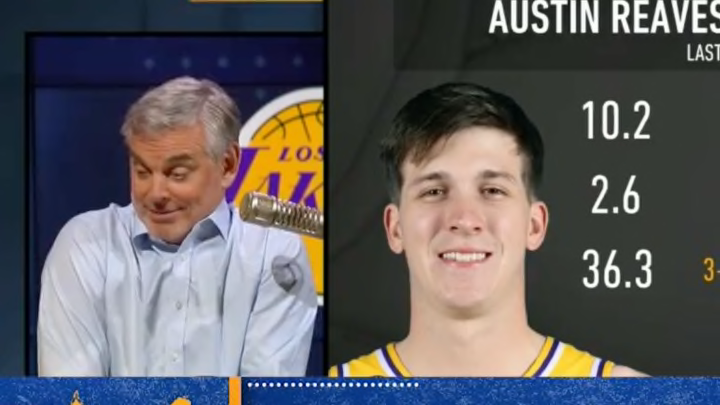 Colin Cowherd did a segment off Marc Stein's recent report that the Los Angeles Lakers were going to do whatever they had to do to resign Austin Reaves this offseason following a very good postseason run. Cowherd cannot believe that the Lakers would "create major cap issues" for Reaves and wonders if they are delusional because they found him and he "plays well with LeBron.*"
The Herd graphics team then puts up Reaves' stats from his first two years in the NBA against some blind resumes. The choices made here are incredible, culminating with Reaves being compared to Mac McClung, as Cowherd says, "This guy averages less, but basically is the same player. One bucket less per game." I bet someone dropped their complimentary K-cup when they did that reveal.
I mean, this is just a masterclass in strawman arguments. He cherrypicked three very specific stats that are all dragged down by Reaves' rookie year. None of those guys compare to Reaves this year as he averaged 13 points, three assists and three rebounds a game on 39.8% three-point shooting and was even better in the postseason, averaging 16.9 points, 4.6 assists, 4.4 rebounds on 44% three-point shooting. He started all 16 games in the playoffs and was their third leading scorer behind two future Hall of Famers. Not to mention...
MAC MCCLUNG ONLY PLAYED THREE F-CKING GAMES IN HIS CAREER.
If that's not acknowledgement that this is a troll job in order to Trojan Horse your way into a Lakers conversation because you don't want to talk about regular season baseball, I don't know what is.
Cowherd also worked in a couple digs at Matthew Dellavedova, who is very simply not the same as Reaves. And on top of that, we will not abide Delly slander on this website. When Delly "got paid" because he played well with LeBron, he went to Milwaukee on a 4-year $38.4 million deal and averaged career-highs in points, rebounds and assists in 76 games (54 of which he started) before his career was derailed by injuries. So just leave Delly alone and stick to The Doors metaphors.