CJ Stroud and Tank Dell Hooked Up For One of the Sickest Touchdowns of the Season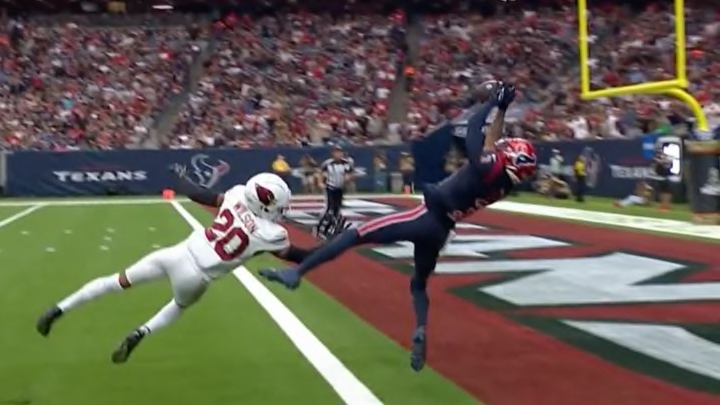 The legend of CJ Stroud continues to grow thanks to the incredible help of Tank Dell. Stroud hit Dell for a spectacular touchdown pass during the second quarter of Week 11's Houston Texans - Arizona Cardinals game. With less than a minute remaining and the Texans at Arizona's 41, Stroud rolled out to the right, pointed towards the end zone and let it fly with a defender in his face. Dell caught it while diving backwards into the end zone.
Deciding who looks the coolest in these videos is almost impossible. Stroud just leaves the pocket and unleashes a tight spiral that lands in the waiting hands of a teammate half a field away. And Dell's timing and concentration to bring this in is equally amazing.
With this touchdown the Texans took a 21-10 lead into halftime. Stroud completed 18 of 24 passes for 259 yards and two touchdowns and Dell accounted for 120 yards, catching six passes on seven targets. If you're making a list of the best young duos in the NFL, these guys definitely go on that list.