Here's the Moment the New York Jets' Season Died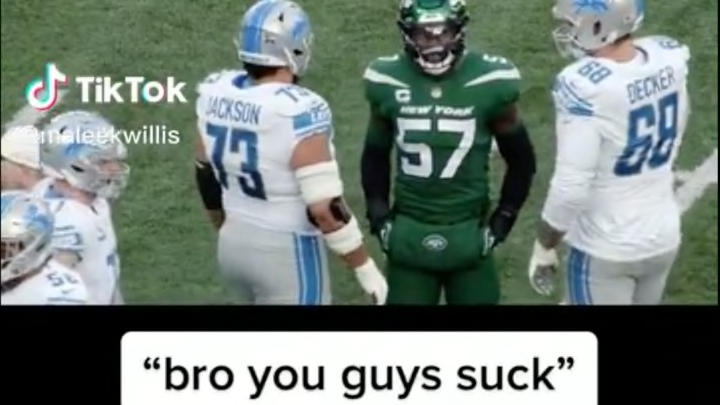 A few short days ago the New York Jets were harboring very realistic playoff hopes. Their vaunted defense was shutting down the Detroit Lions and needed only one more stop to move to 8-6. Linebacker C.J. Mosley was feeling it and decided to let the opposing offensive line know about it in no uncertain terms. So he told them that they sucked.
That bit of hubris has proven to be the turning point of what is now a lost season (well, that and Mike White not being able to find a doctor to clear him after injury). Mosley promptly lost backup tight end Brock Wright in coverage, resulting in a game-sealing 51-yard touchdown on a fourth-and-inches play.
And then last night Zach Wilson happened as he put on a masterful display of answering the question "what if the Butt Fumble" lasted for multiple hours. The No. 2 pick's future with the franchise is in extreme doubt and most fans don't want to see him anymore than normal people would want Fireman Ed to roll up to one of their kid's Little League games.
Oh well. Gang Green will always have the moment where they were briefly beating the Lions. Nothing, including massive disappointment at the quarterback position, can take that away from them.