Dean Blandino: Controversial Defensive Holding on Sauce Gardner Was Correct Call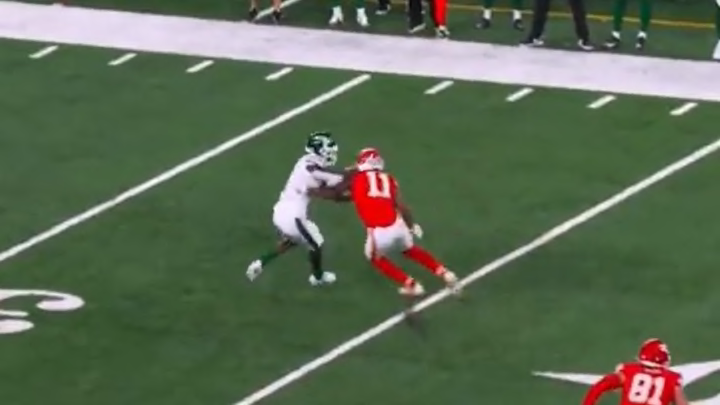 It's a day later and the end of the Kansas City Chiefs' 23-20 win over the New York Jets is still causing controversy. A late call for defensive holding against Sauce Gardner gave the Chiefs new life and led directly to their win. Former NFL vice president of officiating Dean Blandino is here to tell you it was the right call.
The play in question came with 4:29 left in the game as the Chiefs fasted a third-and-20 at New York's 40-yard line. Patrick Mahomes dropped back and threw a ball up for grabs down the right sideline. Jets cornerback Michael Carter II intercepted the ball in what looked like a game-changing play. But a flag on the play changed all of that. Gardner was called for defensive holding for having his hands on Chiefs receiver Marquez Valdes-Scantling. On replay, it looked like a harsh call.
Here's the play in question:
And here is Blandino to explain why it was the right call:
By the letter of the law, it was certainly defensive holding. It wasn't egregious, but it's clear Gardner grabs Valdes-Scantling as he attempts to make his break. The question many had was whether or not it was worthy of being called in that situation.
The call gave the Chiefs a first down and they took advantage as they ran the clock out with a few first downs. So that penalty directly changed the game.
This explanation won't satisfy Jets fans, or head coach Robert Saleh, who flipped out on officials after that call.